Disney released the first volume for Austin & Ally on June 18th 2013. Since this is the first volume, there for sure will be more released in the future.
This is the first time we have a Austin & Ally Volume.
Volume 1: All The Write Moves!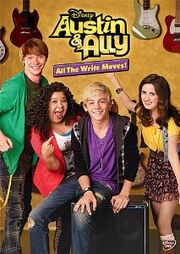 Release date: June 18th 2013
Description: The odds of making it in the music biz are a billion to one, but the unlikely partnership of Austin and Ally is headed straight to the top. Get ready to rock out on DVD with Disney Channel's hottest musical duo, Austin & Ally, in ALL THE WRITE MOVES! Austin Moon (Ross Lynch) is an extroverted musician and singer, and Ally Dawson (Laura Marano) is a brilliant but shy songwriter who has an extreme case of stage fright. After Austin performs Ally's song in a music video that goes viral, the two must combine their talents to create a true musical tour de force. Together with their best friends Trish (Raini Rodriguez) and Dez (Calum Worthy), they chase after their dreams and take some hilarious detours along the way!
Run time: 162 minutes
Number of discs: 1
Rated: Not Rated
Episodes:

To buy the first volume, click here.