Austin & Ally: Chasing the Beat is the second volume of the Austin & Ally dvds. It was released on August 26th. It is also unknown why a DVD for the shows' second season was [unfortunately] never made.
Volume 2: Chasing The Beat!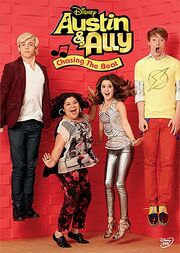 Release date:
August 26th, 2014
Description: Ally's fair in love, war... and music, so AUSTIN & ALLY are pulling out all the stops on their way up the charts. Relive the fun on DVD as this dynamic duo turn up the heat on their music dreams while CHASING THE BEAT. Join Austin (Ross Lynch), Ally (Laura Marano), and their hilarious best friends Trish (Raini Rodriguez) and Dez (Calum Worthy) as they take Miami by storm. Go undercover with Ally as she transforms herself into the edgy songwriter "Roxy Rocket." Tag along with Austin on his big date, where Ally reveals her true feelings. Then, get into the groove when Austin and Ally compete against one another in an epic Glee Club mashup! In the end, whether on or offstage, they may be great solo, but together, they're spectacular!
Run time: 162 minutes
Number of discs: 1
Rated: Not Rated
Episodes:

To buy the second volume, click here.
Ad blocker interference detected!
Wikia is a free-to-use site that makes money from advertising. We have a modified experience for viewers using ad blockers

Wikia is not accessible if you've made further modifications. Remove the custom ad blocker rule(s) and the page will load as expected.