Home
Talk

19
601pages on
this wiki
Welcome to the Austin & Ally Wiki
Welcome to the official Austin & Ally Wiki, a collaborative encyclopedia for everything and anything related to Austin & Ally! There are 601 articles and we are still growing since this wiki was founded. The wiki format allows anyone to create or edit any article, so we can all work together to create a comprehensive database for the Austin & Ally franchise. Don't forget to visit this wiki's Guidelines before editing.

Today is the 22th, and currently there are 725,372 edits to this wiki. To write a new article, just enter the title in the box below.
Fanfiction Contest Winner
Which was your favorite prom episode?











Last Dances & Last Chances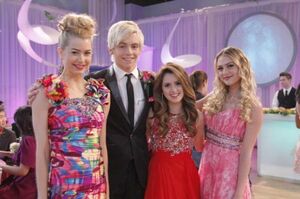 In the latest episode, Proms & Promises, the gang is preparing for their school prom. Ally and Trish insist that it must be memorable, especially "the big ask" (asking someone to prom). Dez asks Carrie by popping out of a Zalien egg. Austin is unsure on how to ask Piper to prom but he soon decides to ask her by writing a song for her asking her to prom. Austin does and Piper says yes. Ally is concerned that Gavin doesn't want to go to prom with her when he doesn't ask her to go, even when she mentions it to him. Eventually, Gavin does ask her but Ally rejects him because she realizes he may not be the right guy. She decides not to go to prom. Trish is set to go with Jace but when he breaks his leg, she decides to go to prom with Chuck so that she can win the dance competition and get the prize money. However, on the night of the dance, Jace shows up in his crutches, not wanting to miss the night with Trish, and now Trish must keep him from finding out about Chuck. Austin is having a good time with Piper but when Ally shows up after being convinced by her dad to come, Austin is taken aback by how beautiful she looks and realizes that he should be at prom with Ally, also realizing he still has feelings for her. But, when Carrie hears this, she is offended that Austin doesn't want to be at prom with her sister and the episode ends with a cliffhanger on whether Carrie will tell Piper or not.
Featured Cast Member




"Ross Shor Lynch" (born December 29, 1995) is an American actor, singer, dancer, artist and musician. Ross is also in a band with his three siblings and their best friend. The band is officially named R5. One of his siblings (Eldest brother, Riker Lynch) has a minor role on the FOX hit series "Glee" as Jeff Sterling, one of the Dalton Academy Warblers. He was raised in Littleton, Colorado. He plays Austin Moon on Austin & Ally. He also starred on the DCOM Teen Beach Movie, which aired on July 19, 2013. Read more...

Featured Character




"Ally Dawson" is a 17-year-old talented, beautiful, and aspiring singer/songwriter who had severe stage fright. She wrote the hit song, Double Take, which Austin accidentally stole and performed in the episode Rockers & Writers, which made him famous. After that, Ally forgives him and agrees to become partners. Ally is best friends with Trish, Austin, and also Dez. Read more...

Featured Episode




"Partners & Parachutes" is the 11th episode in season 2 of Austin & Ally. It aired on March 17, 2013. After talking to her mom and Trish about Austin, Ally decides to focus on her music career now that she's conquered her stage fright. Meanwhile, Austin is unsure about his friendship with Kira. Read more...

Featured Song




"Chasin' the Beat of my Heart" is a song sung by Austin Moon. It is featured on the Austin & Ally: Turn It Up soundtrack. Chasin' the Beat of my Heart is the seventh song on the Austin & Ally: Turn It Up soundtrack. Austin performed this song while he was on tour. Read more...
...that Laura was in an award winning short-film called "Goldfish" when she was little?
...that Ross Lynch and his siblings are from Colorado?
...that Ross Lynch and his siblings are in a band called R5?
...that Vanessa Marano from "Switched at Birth" is Laura Marano's older sister?
...that Raini Rodriguez's younger brother Rico Rodriguez plays Manny on the ABC sitcom "Modern Family," and starred in an episode of "Good Luck Charlie" ("The Bob Duncan Experience")?
...that the cast has daily Jam Sessions (which is basically the cast singing songs and rocking out) on set?
...that Julianne Hough and Derek Hough are Ross Lynch's cousins?
...that Laura Marano is a songwriter outside of the show as well as on the show?
...that Laura Marano and Raini Rodriguez both starred in an episode of "True Jackson VP" (Laura in "Little Buddies" and Raini in "True Mall")?
...that Raini Rodriguez was in an episode of "The Suite Life of Zack and Cody"("Sleepover Suite")? She also played in the Disney XD series; I'm in the Band as Annoying Arlene?
...that Ross, along with his older brother Riker, is in the "Ordinary Girl" music video by Hannah Montana?
...that Ross Lynch got his middle name, Shor, from his uncle?
...that Phill Lewis, who played Mr. Moseby on The Suite Life of Zack and Cody and The Suite Life on Deck, has directed quite a few episodes of Austin & Ally.
...that the first season of Austin & Ally began filming in August 2011 and had finished filming on January 27, 2012?
...that Laura Marano and Anna Sophia Robb were in a GAP commercial together, when they were little kids?
...that Calum Worthy is Canadian?
...that Ross and Laura were born exactly a month apart? (Ross: December 29, 1995 and Laura: November 29, 1995)
...that Ross once stated that if he didn't shower before swimming, his hair turns lime green?
...that the Austin & Ally soundtrack reached #1 of iTunes soundtrack charts on its first day of release?
...that Laura has known Cody Allen Christian (who guest starred in season 2) since she was a little girl?
...that Jill Benjamin and John Henson, who play Austin's parents, are married in real life?
...that Calum Worthy has lots of background with Meghan Ory who plays Ruby on ABC's Once Upon a Time?
...that Laura's mom is an acting coach and her dad is a teacher?
...that Season 2 started filming on Monday, June 4, 2012 and ended filming on February 1, 2013?
...that Calum is the only one in the cast that is an only child?
...that Laura and Austin are both cities? (Laura, Ohio and Austin, Texas)
...that Ross' brother Riker plays Jeff the Warbler in Glee?
...that Laura is a Harry Potter fan and has a crush on him, not Daniel Radcliffe, but the actual character?
...that Laura and her sister Vanessa played sisters on the show Without a Trace?
...that Ross isn't picky when it comes to food?
...that Laura has said that her favorite food is Go-Gurt?
...that Ross was a background dancer alongside with other Disney stars in a music video with Selena Gomez called: "I'm Gonna Arrive" featuring the Sears Arrive Air Band when he was a kid?
...that Austin & Ally were originally going to be cousins and their last names were going to be Ray?
...that Ross' favorite kind of pizza is Hawaiian?
...that one of Ross' guitars' name is Luna?
...that Ross was in Cartoon Network Promo?
...that Laura was in British children"s television program Blue Peter?
...that Laura appeared in the Vamps and Demi Lovato's music video of "Somebody To You"?
If you want to be listed here, contact an admin!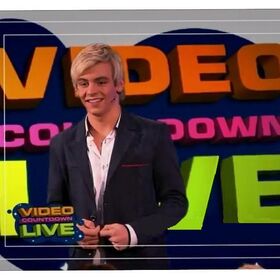 Videos & Vilians will premiere in...
September 21, 2014 21:00:00 EST Please enable javascript on your browser.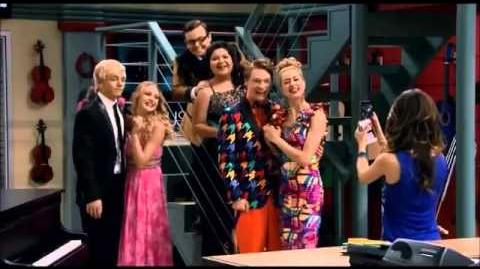 Are you glad the show got renewed for a Season 4?
Most of us are Auslly shippers but which Auslly rival pairing do you like better?
Do you have any questions?
Ask one of the admins.