"
You better not leave any hairs behind. She has enough money to clone you.
"
"Big Dreams & Big Apples" is part 1 of an hour long crossover event with the two hit Wikipedia: Disney ChannelDisney Channel series, Austin & Ally and JESSIE. This crossover is the first crossover of both shows as well as the first hour long event of both shows. The special consists of two parts, but aired as one hour long episode. The first part . It was the 11th episode filmed for Season 2. The episode aired on December 7, 2012 to 4.8 million viewers.[1]
Overview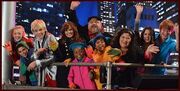 When Austin is scheduled to perform at Times Square on New Years Eve, Team Austin works on ways to get them to New York on time, but eventually have to get help from Jessie & Emma, who comes up with a scheme to not only get Austin to his performace then realized they don't have a way back to Miami.
Episode Summary
Austin
,
Ally
,
Trish
, and
Dez
take a trip to New York where
Austin
is set to perform for the ball drop on New Year's at Times Square. After many setbacks including a phone calling and booking the wrong area, an
airplane flight, setting down short of the actual destination, and a taxi ride with a lack of money causing them to get kicked out,
Team Austin
make it to Time's Square where they encounter Jessie and Emma, who had come to the ball drop after Emma convinced Jessie with the mention of Ryan Seacrest.
Team Austin
mentions their dilemma to Jessie and Emma, and through her helicopter flying skills, Jessie flies them up to the top of the building where
Austin
is supposed to perform.
Austin
performs just in time.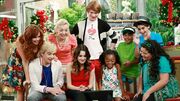 Memorable Quotes
Austin: Ally, is this really happening?
Ally: Believe it, Austin. It's real. Just like zebras.
Dez: (Shakes his head doubtfully)
Ally
:
(Staring at him strangely)
Austin
: Why are you staring at me like that?
Ally: Oh, I started tearing up during your performance and my eyes froze open.
Austin: (Waves his hand in front of her face)

Ally
:
(Nods in confirmation)
Dez: Now that you've achieved this dream, what's next?
Austin: To borrow a warmer jacket. MAN, New York is cold...
Songs Featured
Cast
Austin & Ally Cast
Jessie Cast
Guest Cast
Trivia
Several references from previous episodes were made in this episode. One example was Dez repeatedly sticking random things in his pot of fondue which resembles his actions with the fryer in Bloggers & Butterflies. Also, when Team Austin didn't have enough money to properly pay for their taxi fare in New York and the taxi driver kicked them out near the hotel where Jessie and the Ross's live, it resembles the events of the Jessie pilot, New York, New Nanny, where Jessie got kicked out of the taxi after not having enough money.
This was the first crossover for both Jessie and Austin & Ally.
This is the first Christmas special for Austin & Ally; this is the second Christmas special for Jessie.
This is the first episode special Austin & Ally theme song was used.
Out of all of Season 2, this special featured the greatest amount of new songs.
This was Disney Channel's first Christmas and New Years Eve crossover.
Austin and Ally(Auslly) are technically dating in this episode because this episode was filmed after Partners & Parachutes.
Cheeri is a parody of Apple's Siri.
Transcript
To view the Austin & Jessie & Ally All Star New Year transcript, click here
Gallery
| | |
| --- | --- |
| | To view the Austin & Jessie & Ally All Star New Year gallery, click here. |
References