"
I booked Austin to play Times Square on New Years Eve!
"

—

Trish

announcing Austin's gig
"Big Dreams & Big Apples"

Season 2, Episode 6

Information
Air Date

December 7, 2012

Prod. Code

211

Writer(s)

Wayne Conley

Director

Bob Koherr

Episode Guide
Previous
Next
"Big Dreams & Big Apples" is the first half of Austin & Jessie & Ally: All Star New Year, a crossover between Austin & Ally and JESSIE, another Disney Channel show. This half is the Austin & Ally episode and counts as the sixth episode of Season 2 and the 25th episode overall. It first aired on December 7, 2012 to 4.8 million viewers.[1]
Overview
Austin, Ally, Trish, and Dez travel to Times Square where Austin is booked to perform on New Year's Eve. When they couldn't get through New York City's crowded streets, fate brings the gang together with Jessie and Emma who help them get to the top of the building to perform by flying them in a helicopter. They all do this job successfully.
Episode Summary
Austin, Ally, Trish, and Dez take a trip to New York where Austin is set to perform for the ball drop on New Year's at Times Square. After many setbacks including a phone calling and booking the wrong area, an airplane flight setting down short of the actual destination, and a taxi ride with a lack of money causing them to get kicked out, Team Austin make it to Times Square where they encounter Jessie and Emma, who had come to the ball drop after Emma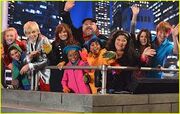 convinced Jessie with the mention of Ryan Seacrest.
Team Austin mentions their dilemma to Jessie and Emma, and through helicopter flying skills, Jessie flies them up to the top of the building. Austin performs just in time, and everything seems to be going fine until the cast of Jessie realize that Zuri is missing. Part 1 officially ends when Zuri is revealed to be in the big, shiny ball.
Memorable Quotes
Austin
: What a year! Jimmy Starr signed me to Starr Records and I released my first album!
Ally: And you still might be able to live out your biggest dream. Playing Times Square for New Year's Eve!

Austin
: If Trish could pull that off, that'd be the best Christmas present ever!
Trish: Guess what I just did? I booked Austin to play Times Square on New Year's Eve!
Austin: Ally, is this really happening?
Ally: Believe it Austin, it's real. Just like zebras.
Songs Featured
Cast
Main Cast
Recurring Cast
Guest Cast
Trivia
This is part one of the one hour crossover special Austin & Jessie & Ally: All Star New Year. Part two of this episode is Nanny In Miami.
This is the first Christmas/New Years special on the show.
This is the second holiday themed special on the show. The first was Costumes & Courage with a Halloween

theme.
This is the first ever Austin & Ally crossover episode.
Dez dipping things into fondue is similar to the episode Bloggers & Butterflies, where he dipped everything in the deep fryer.
Austin, Ally, Dez and Trish getting thrown out of the cab is like when Jessie was thrown out of the cab in the JESSIE episode "New York, New Nanny."
This was the last Austin & Ally episode to premiere in 2012.
This title refers to Austin's dream finally coming true and Team Austin having to go to New York, also known as the Big Apple, to preform on Times Square.
Cheri is a parody of Siri, an intellectual personal assistant available on the iPhone product of Apple Inc.
Can You Feel It and Christmas Soul were both released before this episode premiered, Can You Feel It as a single and Christmas Soul on the "Disney Channel Holiday Playlist" album.
This episode did not air on Sunday as Austin & Ally episodes usually do.
Goofs
When Jessie broke the guitar you can see the back of it has fallen of but in the next shot the back is still there.
Transcript
To view the Big Dreams & Big Apples transcript, click here.
Gallery
| | |
| --- | --- |
| | To view the Big Dreams & Big Apples gallery, click here. |
References