"Can You Feel It"
is a song performed by
Ross Lynch
as
Austin Moon
. It's featured in the first crossover Christmas episode
Austin & Jessie & Ally: All Star New Year
aka
Big Dreams & Big Apples
. It was released as a single on October 16, 2012. It also is performed by Ross in the Shake It Up - Make Your Mark: Ultimate Dance Off. It was written and produced by Joleen Belle, Steve Smith and Anthony Anderson.
Lyrics
Oh oh oh oh oh oh
Oh oh oh oh oh oh

I know it's on when I can't stop myself from watchin' you mo-o-o-ove

(mo-o-o-ove)

It's automatic gotta have it 'cause you got that boom-da-boom boom

(boom-da-boom boom)

When the lights come up
It's hard to hold back
So come on let it blow

Can you feel it
Coming down, down, down
Can you feel it
Coming down, down, down

Movin' faster, stronger, harder
Movin' faster, stronger, harder

Can you feel it
Turn it up, up, up
Can you feel it
Turn it up, up, up
Can you feel it
Turn it up, up, up

Can you feel it
Feel it, feel it

You're so electric
I'm affected and I just can't hi-i-i-ide

(hi-i-i-ide)

The way my heart is jumpin' for you beatin' double ti-i-i-imes (ti-i-i-imes)

When the lights come up
It's hard to hold back, so
Come on let it blow

Can you feel it
Coming down, down, down
Can you feel it
Coming down, down, down

Movin' faster, stronger, harder
Movin' faster, stronger, harder

Can you feel it
Turn it up, up, up
Can you feel it
Turn it up, up, up
Can you feel it
Turn it up, up, up

Can you feel it
Feel it, feel it

Hey hey
Put your hands up
And get 'em rockin'
Hey hey
Show the whole world we're never stoppin'
Hey hey
Put your hands up
We're lighin' up the sky 
Tonight, tonight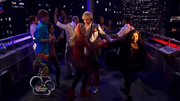 When the lights come up
It's hard to hold back
So come on let it blow

Can you feel it
Turn it up, up, up
Can you feel it
Turn it up, up, up
Can you feel it
Turn it up, up, up

Can you feel it
Feel it, feel it

Can you feel it
Turn it up, up, up
Can you feel it
Turn it up, up, up
Can you feel it
Turn it up, up, up
Can you feel it 
Turn it up, up, up
Can you feel it (Can you feel it)
Trivia
The song premiered on Radio Disney on October 12, 2012.
Ross performed this song at the Shake It Up: Make Your Mark Ultimate Dance Off, as the opening act for the dancers.
R5 first performed this song at the N.B.T concert in Hollywood, California on October 13th, 2012.
This song is featured in the Austin & Jessie & Ally crossover, Big Dreams & Big Apples.
Disney Channel made a lyric video for this song and it won the Austin & Ally Wiki Award for best lyric video.
Austin Moon performed this song at Times Square on New Year's Eve, which had always been his dream.
When Austin placed on his headset right before he preformed, the microphone was set to high, so he had to move it down while singing.
Both Austin & Ally cast and Jessie Cast were in the lyric video.
This is what Austin sings when his dream finally comes true. 
This song is part of the acapella song mash up in Glee Clubs & Glory
Gallery
| | |
| --- | --- |
| | To view the Can You Feel It gallery, click here. |