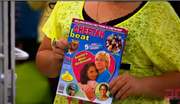 Cheetah Beat is a magazine that was featured in the Austin & Ally episodes Magazines & Made-Up Stuff, Parents & Punishments, Partners & Parachutes and Tunes & Trials. Megan Simms is the magazine's top reporter.
Trivia
In two episodes of Jessie, there is a similar magazine to Cheetah Beat. It is called Leopard Beat.
Cheetah Beat is a parody of the famous teen gossip magazine Tiger Beat.
Cheetah Beat (through Megan) has a tendency to create trouble for Austin and Ally, such as reporting Ally as a "hero" and forcing her to give away Sonic Boom's inventory, and doing an article on Austin and Kira Starr dating, which complicates his relationship with Ally.
Austin has done an interview for Cheetah Beat in the episode Magazines & Made-Up Stuff.
Ally has done an interview for Cheetah Beat in the episode Partners & Parachutes.
The magazine, like all gossip magazines, tends to take pictures and make up what really happened, like when Austin Moon and Kira Starr hugging and gossiping about them being girlfriend and boyfriend.
Trent was featured on the Cheetah Beat magazine.
Despite Jessie being in the same universe as Austin & Ally, two different magazines exist, both parodies of the same magazine.
Austin and Ally were on the cover of Cheetah Beat as the 'couple in harmony' in Partners & Parachutes.
In Tunes & Trials, Ally showed Austin how Cheetah Beat showed every girl that went out with him and could possibly be Austin's love interest in Steal Your Heart.
Ad blocker interference detected!
Wikia is a free-to-use site that makes money from advertising. We have a modified experience for viewers using ad blockers

Wikia is not accessible if you've made further modifications. Remove the custom ad blocker rule(s) and the page will load as expected.