Fan Page

This article is just a fan page. It is a part of the Austin & Ally fanbase all based on information from the series or cast and crew.
Darrie

Information
Characters Shipped
Status

Married

Rivals
Portrayed by
Darrie (D/ez and C/arrie) is the official romantic relationship between Dez and Carrie. They first met in Cupids & Cuties at Shredder's Beach Club. Dez asked Carrie out to the movies and she accepted. They have a lot of similarities, such as liking zombie romance movies.
Other Names
Caz (Ca/rrie and De/z)
Dezrie (Dez and Car/rie)
Derrie (De/z and Ca/rrie)
Cez (C/arrie and D/ez)
Carez (Car/rie and D/ez)
Derriez (De/z and Ca/rrie)
Zarrie (De/z and C/arrie)
Riedez (Car/rie and Dez)
Cadezrie (Ca/r/rie and Dez)
History
Dez and Carrie first met in the episode Cupids & Cuties at Shredder's Beach Club. Carrie works as a waitress there, and served Jace and Trish, and later Dez. Near the end of the episode, Dez goes to the club and eats there, Carrie serving him. He originally goes there to mope about his failing love life, but he and Carrie bond, especially after he finds out she loved zombie romance movies and is called "The Love Robot." He indirectly asks her out on a date to watch a zombie romance movie, Tears of the Dead, and she shows up for the date. At the end of the episode, Dez gave her flowers, pizza, and a goat. Carrie appreciates the gifts, because she knows that Dez really likes her. They went to prom together in Proms & Promises and Last Dances & Last Chances. Dez moved to LA to be with Carrie in Relationships & Red Carpets. Carrie broke up with Dez prior to Buzzcuts & Beginnings.
In the episode, Wedding Bells & Wacky Birds, Dez is shooting an commerical only to find out Carrie was one of the stars. He becomes upset and jealous due to the fact that her male lead was not only attractive, but they were set to kiss as well. This caused him to quit directiong the commerical and argue with Carrie. Through the arguement, it is revealed that Carrie believes Dez dumped her, but Dez thinks opposite. Trish figures out that the two had misintrrupted each other's words on one of their dates in LA and that they were techinically still together. They make up and end up starring in the commerical together. In Duets & Destiny, it is revealed that Dez and Carrie are married and have a child together named Darrie.
Moments
They meet for the first time.
Carrie cheered Dez up when he was upset.
They realize they have a lot in common.
Dez asked her out to the movies.
Carrie accepts the date.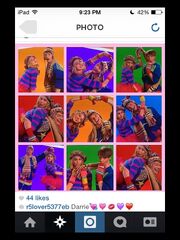 Dez said they had the best date ever.
Dez seems to like Carrie a lot.
At the end of the episode, Dez gives Carrie flowers.
Carrie looks really happy when he gives her the flowers.
Dez got Carrie some pizza.
Dez got Carrie a goat.
Carrie hugged Dez for getting her these items and was really happy.
Dez was really happy that they're dating.
They officially become a couple.
They are still currently dating.
Dez wears various sweaters Carrie's knitted for him.
Carrie calls Dez "my Dezzy".
They both model more of Carrie's sweaters for a photoshoot at the end of the episode.
Dez mentioned their first date.
Dez wanted to ask Carrie to prom, and dressed up a zalien.
Austin, Ally and Trish all thought the way he wanted to ask her was romantic
Carrie called Dez "my Dezzy".
Dez asked Carrie to prom, and she said yes.
They were planning on entering the dance contest together.
They were later seen at prom together.
Dez called Carrie's dress and feelings beautiful.
Dez called Carrie "Babe", and said she was the best.
Dez cuts Carrie's food for her as she can't sit cause of her dress.
Carrie wishes Dez (and Trish) luck with the dance contest.
They were seen dancing together at the end of the episode.
Carrie serves Dez (and Trish)
Dez Calls Carrie 'babe'
Dez looked worried when Carrie walked off upset
They both attended Ally's record release party (along with everyone else)
They were next to each other when Ally performed Parachute
They hugged at the end of the episode, like Auslly
Dez was dancing along when Carrie was playing with the cash register
Dez calls Carrie 'Babe'
He helps her take the bucket off her head
Carrie didn't know how to break the news that she's moving to LA, to Dez
Dez thought he was going to LA with Carrie, and happily hugged her
Dez was crying after Carrie broke the news to her
Carrie comes back to Miami for the music awards to see Dez, and she called him 'Dezzie'
They hugged and had their pictures taken together on the red carpet
Dez told Austin he was moving to LA to be with Carrie
Carrie waits at the airport in LA, for 6 hours for Dez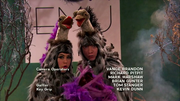 Dez was upset over seeing Carrie in the ad
Carrie was starring in the commerical Dez was directing
He became extremely jealous when Carrie and her male co-star were about to kiss and stop it
Dez quit due to being upset over Carrie
Carrie told Trish that Dez actually dumped her.

Carrie believe when Dez said we were done at a restaurant, he was refering to their relationship. It was actually referring to the waiter with their food
Dez thought Carrie was disgusted by the date, but she was referring to the fruit.
Dez and Carrie figure out (with Trish's help) that they never broke up
They "get back together".
They share an eskimo kiss and make up with each other
They both star in the commerical together
It is reveled that Dez and Carrie are married in the future
They have a child named Darrie
Dez calls Carrie his wife
They hug
Quotes
Carrie: (Dez gives her flowers) Flowers? (Dez gives her a box of pizza) Pizza?
Dez: I got something you else. (Dez pulls a box with a goat inside)
Carrie: A goat? You really do like me!
Trivia
Similarities
They both like zombie romance movies.
They are called a "Love _____". Dez is the "Love Whisperer" and Carrie is the "Love Robot". (Actually no one calls them that.)
They are both slightly dumb.
They both like goats.
They both have the same group of friends.
Differences
Dez is a boy and Carrie is a girl.
Dez has red hair and Carrie has blonde hair.
Carrie worked at Shredder's Beach Club but Dez did not.
Dez moved back to Miami, Florida, and Carrie remained in LA for the first part of Season 4
Gallery
| | |
| --- | --- |
| | To view the Darrie gallery, click here. |
Ad blocker interference detected!
Wikia is a free-to-use site that makes money from advertising. We have a modified experience for viewers using ad blockers

Wikia is not accessible if you've made further modifications. Remove the custom ad blocker rule(s) and the page will load as expected.