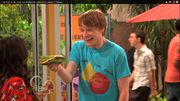 In Road Trips & Reunions, Dez encourages Ally, along with Trish and Austin, to come join the rest of the tour. He and Trish meet up with Ally eventually, but then get into the problem of having the whole team reunited together. During all this, Dez finds his favorite snacks at the rest stop - Crunchkins, and at the airport - Flamos. It is revealed by the end that he calls Austin Little Golden Toes, and he is very happy that Ally is staying with them.
While Austin is out getting breakfast burritos, Dez in the imagination sequence is shown to have no friends whatsoever, and willing to make one. All he usually did is go around filming the people around him with his camera. When he meets Ally and Trish, he becomes their friend, though Trish makes him his personal assistant. By the end, Dez kisses Trish when she has no one else except for him. But the imagination sequence ends when that happens for it is a nightmare for Austin, Trish, and Dez. Dez says that having Trish kiss him wasn't the worst thing in the world, but giving up directing was before Austin comes back, to which Dez goes outside to play banjo badminton with.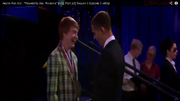 After the last concert of the Full Moon tour, Dez and the rest of his friends are in Washington D.C., wondering what to do on their last day after Austin gets an award for Teen Role Model of the Year - which Dez seems to be jealous of. The foursome decide to head over to the Smithsonian Museum, but wound up in trouble after Austin gets the silver shoes from the Wizard of Oz stuck on his feet. Though, seeing as Austin has to perform for the president somehow with the shoes on, he ends up putting on bigger shoes for the performance. However, the plan goes awry when Austin's shoe is accidentally kicked off his feet, about to hit the president. But, luckily, Dez is able to save the day and takes the hit for the presidents, resulting in him receiving a medal from him as well.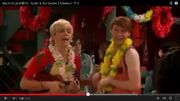 Taking the first look around the new Shredder's Beach Club, Dez and Austin find an old treasure map. This makes them want to put the map to good use and find the hidden treasure somewhere around the beach. Through the episode, they attempt to look everywhere for it, but can't seem to find it anywhere. That being because the "map" is really a kid's menu from the old restaurant that originally was built in Shredder's place, as said by Hazel. In addition, when Ally throws a luau for Trish, Austin and Dez also sing the apology song they have for her as well. Then, the volcano with ketchup somehow erupts, thanks to Dez, having everyone go back to the beach club.
Wanting to play the role of Santa Claus for the orphan's Christmas party at the beach club, Dez has to first face Chuck in competing for the spot. Trish manipulates them both throughout the episode in a competition by making the two do all of the party planning work for her such as taking out the trash, setting up the lights, and so on and so forth. At one point, Dez is able to show that he can wrap presents in a little amount of time, but Chuck shows that he can too, so of course, they compete in this as well. However, it does get the job of fixing the presents done. However, at the beach club, Dez and Chuck still duke it out when it comes to who is still playing Santa, causing them to wreck several of the decorations there. Later on, the gang are able to perform I Love Christmas, and Dez plays the saxophone during this. Near the end, he also suspects that Larry, the delivery guy, is an actual elf from the north pole, and he is right, despite Larry denying his true identity.
In part of the episode, Dez struggles with wanting to become a member of the high school's glee club, always having imagined that he would one day be able to sing along with the group. During the midst of the immense tension of the splitting of teams between Austin and Ally, Ally allows Dez to become a part of her side on the team. Later on, when Austin and Ally are both kicked out of glee club, Dez somehow becomes the leader of the club and it turns out disastrous. Despite his ability to, in fact, sing well, he is not truly meant to be the glee club's leader. Eventually, Austin and Ally are both back on the team, and Dez with the rest of the group are able to win the regionals competition by singing the Austin & Ally Glee Club Mash Up.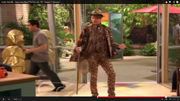 After winning a raffle for a gift card at Trish's favorite animal print store, Dez decides to put Trish up to the test on how nice she could really be to him. He makes a deal with her that he will give the card to her in a week. However, every time Trish insults him during that week, he will go to the store and buy something from there. That being said, the nicer Trish is to Dez, the more money there will be left on the card when she does get it after a week. Throughout the episode, Trish seems to fail at the task of being nice to Dez, resulting in him much new clothing from the store each time. By the end though, it's the last straw when Dez accidentally spills a drink on Trish, so with all the insults that she throws at him, to which Dez enjoys hearing, Trish is left with nearly no money left on the card, to Dez's satisfaction, of course.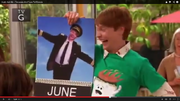 Having accidentally ruined Ally's cupcake fundraiser for charity, along with Austin, Team Austin decides to host an auction of Austin Moon Merchandise at the beach club. One of the items being a date with Austin, Dez confronts Ally about the possibility of her being jealous of Austin going out with another girl, though denies it. After Ally eventually realizing her jealousy, she has Dez take her out salsa dancing to the beach club to spy on Austin and Chelsea - his date. Later on at Chelsea's little sister's birthday party, Dez arrives there marveled at a "unicorn", which is really just a pony with a cone taped to its head. At the end, he along with everyone else, enjoys Austin's acoustic performance of Upside Down.
In the episode, Dez at first, has the secret identity of Dr. Cupid. Online, he gives love advice to those who really need it. When Trish is in desperate need for help, she seeks help from Dr. Cupid, but doesn't know at Dez. She, Austin, and Ally are shocked when they do however find out that Dr. Cupid really is Dez, yet they want him to be more publicized. Trish books him a radio interview with DJ Sonny Smooth, but since Dez has never had a girlfriend or even been on a date, he is called a fraud, making him quit the role. Austin, Trish, and Dez attempt to cheer him up, but it's not before long that he eventually finds out that he and Carrie have some common traits, having him ask her out on a date. This makes Dez happy, and reprising his role as Dr. Cupid.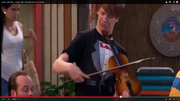 When Austin receives a bad review on his performance by Kenneth Kreen, Dez helps Austin by first coming up with the idea of performing while as the Electric Avenger. However, when this only makes things worse, Dez continues to attempt to help out his friend by trying to have him talk to a cheerleader at school, though this doesn't work out too well either. But, after Ally talks him into believing in himself again, Dez is at the beach club, trying to prevent Kenneth Kreen from leaving in order for Austin to catch up on time. Even as Kreen still does not like Austin's performance of Stuck on You, Dez, Trish, and Ally, still know that Austin is the real deal either way.
Along with the rest of Team Austin, Dez is given the chance to go work on a movie set as an assistant by his favorite movie director - Spike Stevens. But when he finds out that he was only hired because of being Austin's friend, he's crushed. Thanks to Austin though, he is able to get back on his feet. Going back to the movie set, Spike receives a phone call about his wife being in labor, making him give Dez the chance to direct the movie. Dez takes up the opportunity, but comes across the conflict of Brandy Braxton once again being short-tempered. After he decides to stand up to her, which does work, he is able to successfully direct the movie, and at the end of the day, Spike comes out. He said that his wife wasn't really in labor and that he thought after finally seeing one of Dez's films, that he should be given a chance to shoot the movie, to Dez's satisfaction.
He is seen entering Sonic Boom with Austin and is excited about homecoming. Later, he is seen with Chuck and they do another one of their talking battles. Later, he is later seen with Austin and Trish at Shredder's and he convinces and makes Austin realize he still has feelings for Ally. At the end of the episode, he is seen at homecoming with everyone.
Dez is first seen at Shredder's with everyone and is being cute around Carrie. He went to Ally's fashion show with everyone else. At the end of the episode, he is seen with Carrie, and they are having a photoshoot with each other.
Dez is first seen at the beach club with Austin, Ally and Trish, and he's helping Austin set up the lights for his upcoming concert. He then invites everyone to his cousin, Dwayne's house. When they arrive, everyone is surprised to find out that Dez's cousin is NBA superstar, Dwayne Wade. Dez also revea;s that his surname is Wade. Dez is then seen playing Disco Explosion with Austin and Wade. Later, when everyone tries to escape from Dwayne's house, since he's obsessed with Austin, they pretend to play hide and seek to leave, and Dez believes they're actually playing the game. Back in Sonic Boom, Dez explains that Dwayne gets obsessed with things, but once he does them, he moves on. He is later seen at Austin and Dwayne's concert and enjoys it. At the end of the episode, Dez revealed that he also has a secret shrine to Austin, much to Austin's shock.
Dez is first seen walking into Sonic Boom with Austin and Dez, dressed as a zalien again, and he invites Austin, Ally and Trish to the zalien convention, which they all go to. At the convenstion, after speaking to two zaliens, Dez starts to blieve that they are real, which no one believes at first, until he and Trish see Zip suck Ziltch's brains, and realizes they are real. Later, back at sonic boom, he and Trish walk in and tells Austin and Ally that they are real zaliens and they don't believe until Zip sucks Ziltch's brain again. Dez is then seen at the conversion again and enjoys Austin and Ally's performance. Later, Dez gets his brains sucked by the zaliens! Then he wakes up and it reveals that most of the episode was Dez's dream. At the end of the episode, he is seen at the convention again, and telling funny jokes.
Dez is first seen running into sonic boom, asking Austin if the zalien egg is ready for him to use. This was Dez's way of asking Carrie to prom, which she says yes to. Later Dez is seen talking to Carrie about prom, and they are later seen at prom together.
Dez is first seen in the second scene of the episode and asks Austin to be his dance partner for the competition, but Austin says no. Dez then gets excited when Austin admitted he'd rather be with Ally than with Piper. Later in the episode, Dez enters the contest with Trish, and they win, but then gets annoyed when they find out it will be used for the school. Near the end of the episode, Dez is seen with Trish and they are watching Austin and Ally admit they never stopped liking each other, kiss and finally get back together, and Dez is extremely happy about this. At the end of the episode, he is seen dancing with Carrie.
Dez is first seen walking into Sonic Boom, ith Austin and is excited that Austin will promote his new pair of shoes called 'Moonwalkers' and Dez revealed that he voted 700 times for Ally's song Finally Me, for the countdown, even though Austin never performed that song. Later, Dez gets worried when Austin left to look for his shoes and hasn't come back. He attempts to sneak into the practice room to rescue Austin and Trush (cause Brooke captured them), but fails when he sings his own action music when pretending to be a spy and gets trapped too. Eventually, they all escape and is seen watching Austin's performance of the newer version of Upside Down and loves it. In the final scene, Dez is seen back in Sonic Boom with his friends and it's revealed that Austin's moonwalkers have inspired Dez to come up with his own pair of shoes and it shows the commercial.
Dez is first in Sonic Boom, practicing for the part of blacksmith in the school play, Sleeping Beauty (even though there is no blacksmith in that play). In the next scene, at school, he gets the part of Prince Charming, which he is disappointed about. Dez later works on his lines with Trish (who is Sleeping Beauty). Dez along with his friends, try to help Trish when she is bullied by people's comments online and in school. Dez and Carrie later find out that Margo is the bully and try to get revenge on her during the play, cause of what she did to Trish. In the end, Dez performs in the play with everyone.