Fan Page

This article is just a fan page. It is a part of the Austin & Ally fanbase all based on information from the series or cast and crew.
Gally

Information
Characters Shipped
Status

Friends
Exes

Rivals
Portrayed by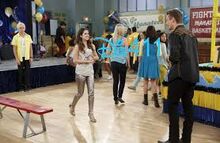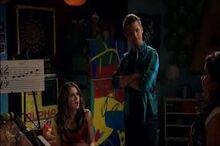 Gally (Ga/vin and A/lly) was the romantic/friendly pairing between Gavin Young and Ally Dawson. They first met in Hunks & Homecoming. After spending time together writing songs as partners, Gavin asked Ally out on a date. They later stopped being partners because Ally knew that it would be difficult to work and be a couple at the same time. In the episode, they broke up. 
History
They met in the episode Hunks & Homecoming and started dating.  They also sang Me and You during the pep rally in the episode. By Fashion Shows & First Impressions, they'd been dating for a month. They broke up in Last Dances & Last Chances.
Other Names
Avin (A/lly and Ga/vin)
Alvin (Al/ly and Ga/vin)
Gavlly (Gav/in and A/lly)
Alin (Al/ly and Gav/in)
Gavy (Gavin/Ally)
Dang (Dawson/Young)
Youson (You/ng and Daw/son)
Dawsong (Dawson/Young)
Dawong (Daw/son and Y/o/u/ng)
Moments
As Gavin is explaining why he was late (finding the dog, bathing it, etc.), Ally, along with Trish, goes "aww".
They become song partners.
They tell music jokes to each other and Ally compliments Gavin on his sense of humour.
Gavin brings Ally coffee, just the way she likes it.
They sing Me and You together and dance, then hug at the end.
Before they sing, Gavin says it's an honour to be singing with Ally, calling her beautiful and talented, and Ally thanks him.
They start dating.
As Austin is telling Trish about Gally dating, Gally can be seen hugging in the background.
They plan on going to the pickle factory for their "1-month-aversary".
Once Austin saves Ally from the goo, Gavin rushes over to Ally, helps her up, and calls her his "precious angel".
As the goo falls on Armand Bianchi, Gavin protects Ally.
Just as Austin is about to tell Ally how he feels, Gavin arrives at prom on horseback, dressed as a knight, and asks Ally to be his date.
Gally break up, but agree to remain friends and hug.
Ally implies to Gavin that they may write more songs together sometime in the future.
Rivals
Gallery
| | |
| --- | --- |
| | To view the Gally gallery, click here. |