Hazel

Information
Full Name

Hazel

Gender

Female

Resides in

Miami, FL

Occupation

Manager of Shredder's Beach Club

Eye Color

Brown

Hair Color

Brown

Affiliations
Production
First Episode
Portrayed By

Alexa Rose Russo
Hazel is the excessively cheerful boss of Shredder's Beach Club. She first appeared in the episode Beach Clubs & BFFs. She is also Trish's boss and is so far the only one of Trish's bosses who hasn't fired her yet (not including Austin). She also appeared in the episode Mix Ups & Mistletoes in which she gave Trish a promotion.
Hazel is portrayed by Alexa Rose Russo.
Personality
Hazel is an extremely peppy person and is always smiling. Whenever she speaks to someone, she tries to be nice but she doesn't let her kind personality get in the way when it's time for her to get serious, as shown in Mix Ups & Mistletoes when Trish wrecked the Christmas party and Hazel told her she was not getting a promotion.
History
Hazel first appears in Beach Clubs & BFFs and employs Trish. She also meets Austin, Ally, Kira, and Dez. She second appears in Mix Ups & Mistletoes when she is throwing a Christmas party and Shredder's Beach Club for children. In this episode, Trish wants a promotion but Hazel refuses to give her one until she throws a disaster-free party, as all of Trish's parties have ended up in disaster. In the end, Trish saves the party when it is wrecked and Hazel gives her a promotion.
Appearances
Trivia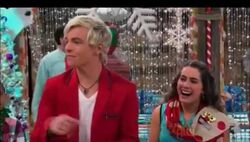 She works at Shredder's Beach Club.
She loves Christmas (Mix Ups & Mistletoes).
Coincidentally, Hazel's portray (Alexa Rose Russo) has a similar name to the lead character on a previous Disney show (Wizards of Waverly Place, Alex Russo).
She mixes up different Christmas carols up with each other as seen in Mix Ups & Mistletoes.
Based on Mix Ups & Mistletoes, she may not be good at memorizing song lyrics.
She has a perky sort of personality.
She may appear in future episodes, therefore she'll become a recurring character.
She has brown hair.