Hey Jessie, Can't Do It Without You  was the theme and opening song for the crossover between Austin & Ally and JESSIE: Austin & Jessie & Ally: All Star New Year. It is performed by Ross Lynch as Austin Moon and Debby Ryan as Jessie Prescott.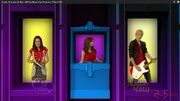 Lyrics
Oh oh oh oh,
oh, oh, oh, oh
Hey Jessie! Hey Jessie!

When the crowd wants more,
I bring on the thunder
'Cause you got my back
And I'm not going under (Hey Jessie!)

You're my point,
You're my guard
You're the perfect chord
And I see our names together on every billboard (Hey Jessie!)

My whole world is changing, turning around.
They got me going crazy and they're shaking the ground (Hey!)
But they took a chance on the new girl in town (Oh!)
And I don't wanna let them down, down, down, down, down, down, down, down

There's no way I can make it without you (Hey!)
Do it without you (Hey!)
Be here without you
It's no fun when you're doing it solo (Hey!)
With you it's like whoa (Hey!)
Yeah and I know.

I-I-I-I-I-I-I-I own this dream
Cause I-I-I-I-I've got you with me
Hey hey hey Jessie!
Trivia
This song puts a technical twist on the otherwise two pop songs.
This song is the first mash-up heard in the Austin & Ally universe as well as the Jessie universe.
This song is the third different version of Without You; the first being the Coleslaw Song from Diners & Daters and the second being the acoustic version in Albums & Auditions.

This song is the first techno pop song on Austin & Ally: all the other song are either acoustic or other pop sub-genres.
This song is longer than both of the original songs.
The length of the mash-up is 53 seconds.
References
Gallery
| | |
| --- | --- |
| | To view the Hey Jessie, Can't Do It Without You gallery, click here. |
Ad blocker interference detected!
Wikia is a free-to-use site that makes money from advertising. We have a modified experience for viewers using ad blockers

Wikia is not accessible if you've made further modifications. Remove the custom ad blocker rule(s) and the page will load as expected.