JJ De la Rosa

Information
Full Name

Jackson-Jonas De la Rosa

Nickname(s)

JJ

Gender

Male

Date of Birth

Unkown

Resides in

Miami, Florida

Occupation

Magician, Pioneer Ranger

Eye Color

Brown

Hair Color

Brown

Family
Production
First Episode
Last Episode
Portrayed By

Devan Leos
Jackson-Jonas De la Rosa is Trish's younger brother. JJ is an aspiring magician and is first seen in the episode Club Owners & Quinceaneras as well as only being seen in an episode mentioned before. He is also seen in the episode Boy Songs & Badges.
Personality
JJ is a very quirky kid who loves to do magic. He is not that great of a magician but tries to his hardest to become one although fails most of the time. Because of his magic, Trish gets annoyed by him. He is also part of a pioneer ranger group.
Character History
JJ wants to do a magic act at Trish's quinceanera. At the party, Trish tells him to not do a card trick. When JJ is about to perform a trick that cuts someone in half,but Trish tells him to do a card trick. Trish lets him cut her in half and at that trick, he succeeds, but then he can't put her back together even though a fearful Trish begins to freak out when he can't figure out how to put her back together!
He is one of the Pioneer Rangers in the troop that his sister, Trish, leads. He, as well as Nelson, are the main people to interact with her. He is quite good when it comes to tying the Impossible Knot, but when it comes to untying it, it truly is impossible for him to do!
Appearances
Relationships
Trish and JJ are brother and sister. Trish lets JJ do his magic act at her quinceañera even though he could barely do a simple trick. Trish also seems to boss him around in Boy Songs & Badges. They seem to tease each other often, but they still love each other a lot.
Mrs. De la Rosa is JJ and Trish's mom. She obviously loves and admires them both very much.
He's is JJ's father. Not much is known about their relationship.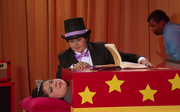 Trivia
JJ is Trish's younger brother.
JJ seems to hardly hang out with Trish. It's shown he annoys her a lot.
JJ was mentioned in Grand Openings & Great Expectations.
He loves doing magic tricks even though he doesn't always get them right.
He has black curly hair, like Trish.
He is a Pioneer Ranger.
His voice got deeper since Club Owners & Quinceaneras.
He earned the Knot-Tying, Music and the You're A Pretty Cool Little Brother badges in Boy Songs & Badges.
JJ seems to be very smart, as Trish isn't very good in school.
Gallery