"
Austin, I know you're upset, but I know what I'm doing. Do you think you could have gotten here if it wasn't for me?
"
Jimmy Starr

Information
Full Name

Jimmy Starr

Gender

Male

Resides in
Occupation

Owner of Starr Records

Eye Color

Black

Hair Color

Unknown

Family

Kira Starr
Unnamed son
Unnamed wife

Enemies
Production
First Episode
Last Episode

?

Portrayed By
Jimmy Starr is the owner of Starr Records and Austin Moon's former record producer. He made his first appearance in the episode Successes & Setbacks, and also appears in some Season 2 episodes. He has signed Austin to his label. Jimmy has a son who takes music lessons from Ally and he also has a daughter, Kira, who dated Austin during a part of Season 2. He also has a son but it's unknown who he is. Jimmy was a recurring character from Season 2, until Season 3. He appears as the main antagonist of the Season 3 finale, Relationships & Red Carpets, and released Austin from his label after he refused to end his relationship with Ally and used the contract Austin signed to prevent him from making any music, making him responsible for ending Austin's career
Jimmy Starr is portrayed by Richard Whiten.
Personality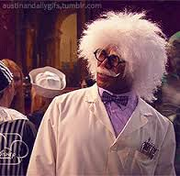 Jimmy Starr is a very professional man who cares a lot about his business. He seems to be a very strict, moody kind of guy who can also be fun at times. He admires Team Austin and Ally but Dez sometimes annoys him. However, he is later shown to be very selfish and uncaring, as he wanted Austin and Ally to be apart from each other simply so teenage girls would buy his products more by believing Austin to be single and attempts to force Austin to do so by using his contract rights to prevent him from making any more music in the future, which ended Austin's career.
Appearances
History
Jimmy first meets Austin and asks him if he can give him a demo of his new song. If he likes it, he might give him a record deal. Austin accepts, but after over rehearsing the song, he strains his voice.
Team Austin asks Jimmy if they could have a few more days to record the demo and Jimmy, instead of pushing it back, asks for the demo a day earlier. Even earlier, Jimmy comes to see if he can pick up the demo. Without having the demo ready, Austin instead agrees to sing the song live, even when he was not allowed by his doctor to speak a word. Austin sings the song to a success and Jimmy signs Austin to Starr Records.
He throws a party to celebrate Austin's album release.
Jimmy has an annual halloween party that Austin has been invited to perfrom at this year, with Taylor Swift. But when Taylor can't make it, Ally steps in to sing with him. However, Jimmy still thinks that Taylor performed.
Here, Jimmy first appears when Dez asks him to view some business items as a way for Trish to contact the Times
Square Promoter. Then, he appears really in an angry mood but comforts just as Austin drops on the ladder of the helicopter, looking up and looking thankful that Austin hadn't missed his performance time.
Jimmy first appears in this episode when he goes to randomly visit his daughter, Kira, who's playing Austin's girlfriend in the music video for "No Ordinary Day". Because of his appearance, Team Austin realize they can't fire Kira, and they then try to freshen her breath up. After that fails, Austin grosses Kira out by faking a drooling problem and gets her to quit. Jimmy then comes in while Austin and Dez are looking for the replacement girlfriend to talk to Austin about his "drooling problem", saying that he's experienced it. He then explains that he too once had a drooling problem. He gets Kira to apologize and say that she'll resume work on the video, and then tells Austin that he'd like Austin to come tell some kids about how he achieved his dreams despite having an issue with drooling. After the kids meeting fails miserably, Jimmy demands the truth, and when Team Austin tell him about Kira's stinky breath, he admits that he didn't realize because when he was 8, he had surgery on his drooling problem which took away his sense of smell, and he tells them that he'll work the breath issue out with Kira later, but insists that the video be ready by that day.
In this episode, Jimmy is texted by Austin to meet him at Mini's, and finds out that Austin and Kira are dating. He starts to make them break up, because he doesn't want his daughter to date musicians, but after realizing that Austin is mature and responsible enough to ask Jimmy as soon as possible, he lets them date- much to Austin's dismay.
In this episode,Jimmy has hired his daughter Kira to his record label and invites Team Austin to see Kira, recording. Then later on Team Austin accidentally record over Kira's song and Jimmy finds out and gets cross at Austin for doing this and he mentions that Austin has broken Kira's heart so he decides to fire Austin from Starr Records. At the end of the episode he goes to the venue to see Ally perform Finally Me and he signs her to Starr Records and then decides to re - hire Austin to the record label and then Austin and Ally,both are signed to Starr Records.
In the imaginary sequence, when Ally, Trish and Dez imagined how their lives would be without Austin, Trish called Jimmy up to listen to Ally sing; being so nervous, as she still had her stage fright, Trish convinced Ally to simply play so that she can be signed on as a songwriter. But she couldn't do it, so Trish sang Double Take, and Jimmy was really impressed, so he decided to sign Trish on.
Jimmy finds out that Austin and Ally are dating and bans them from going to the WMA's together. Later, he makes Austin choose between Ally and his career. In the end, Austin chose Ally over his career and Jimmy fired Austin from Starr Records, but kept him bound to his contract to prevent Austin from performing.
In a imaginary sequnce, Jimmy appeared in three places and prevent Austin from preforming any dance,sing or making any music (such as dressing like a teenage,a dinosuar costume and using a jetpack) then Jimmy made a real appearance when he was asked to be a celebrty judge at a karaoke contest and told Trish that he might consider letting Austin perform again but when Austin, dress like Flermy is discovered Jimmy refuse to let him preform again.
Trivia
Gallery
| | |
| --- | --- |
| | To view the Jimmy Starr gallery, click here. |
References