Julia Campbell

Information
Full Name

Julia Campbell

Gender

Female

Born

March 12,1962

Eye Color

Blue

Hair Color

Brown

Occupation

Actress

Years active

1984-present

Role
Julia Campbell portrays Penny Dawson, the mom of Ally, in the Disney Channel original series, Austin & Ally. She is an American actress, who is best known for her role 'Christie Masters' in the film Romy and Michele's High School Reunion along with Mira Sorvino, Lisa Kudrow, and others.
Early Life
Campbell was born March 12th, 1962, in Huntsville, Alabama , USA. She used to be married to Bernard White, but is now currently married to actor Jay Kames. She had set off her acting career in 1984 on Ryan's Hope as Katie Thompson. She appeared there for five episodes, lasting until 1985.
Filmography
Films
Year
Title
Role
Notes
1986
The Eleventh Commandment
Felicia
1987
Body Count
1990
Opportunity Knocks
Dr. Annie Malkin
Johnny Ryan
Eve Manion
TV movie.
1991
Livin' Large!
Missy Carnes
1992
Ned Blessing: The True Story of My Life
Jilly Blue
TV movies.
The Witches of Eastwick
Jane Hollis
1994
Twilight Zone: Rod Serling's Lost Classics
Maureen
Segment "Where the Dead Are"
The Adventures of Young Indiana Jones: Hollywood Follies
Kitty
TV movie.
1997
Romy and Michele's High School Reunion
Christy Masters
1998
Rough Draft
Juliette
Legion of Fire: Killer Ants!
Laura Sills
TV movies.
Poodle Springs
Miriam 'Muffy' Blackstone-Nichols
1999
A Slight Case of Murder
Patricia Stapelli
2000
Hey Neighbor
Barbara
Bounce
Sue
2001
Thank Heaven
Victoria Brady
2002
The Funkhousers
Mom
TV movie.
2005
Kicking & Screaming
Janet Davidson
2006
The Tillamook Treasure
Kathryn Kimbell
2012
Arcadia
Mrs. Acres
TV Shows
Year
Title
Role
Notes
1984
Ryan's Hope
Katie Thompson
5 episodes 1984-1985
1986
Santa Barbara
Courtney Capwell
2 episodes
1987
Werewolf
Sally
Ep: Running with the Pack
Women in Prison
Vicki Springer
13 episodes 1987-1988
1989
Knight & Daye
Janet Glickman
Ep: Pilot
Ep: New York! New York?
Ep: Goodbye, Mr. Scrimshaw
1992
Herman's Head
Elizabeth
5 episodes
1993
Cutters
Lynn
Murder, She Wrote
Sharon Baskin
Ep: A Virtual Murder
1994
Blue Skies
Ellie
1995
A Whole New Ballgame
Meg O'Donnell
7 episodes
Party of Five
Monica
Ep: Best Laid Plans
1996
Champs
Doris
6 episodes
Men Behaving Badly
Cherie Miller
2 Episodes (The Bed & Jamie's in Love).
1998
Seinfeld
Lisi
Ep: The Frogger
The Practice
A.D.A. Fields
Ep: Reasons to Believe
The Pretender
Kristi Kincaid
Ep: Someone to Trust
1999
Martial Law
Melanie George
5 Episodes (Extreme Measures, Captive Hearts, Nitro Man, Requiem & End Game).
Oh, Grow Up
Julie Sheffield
2000
Bull
Dr. Mary Parker
Ep: To Have and to Hold
Friends
Whitney
Ep: The One with the Engagement Picture
2001
Judging Amy
Calla Hawkins
Ep: Hold on Tight
Reba
Caroline
Ep: You Make Me Sick
2002
Rose Red
Ellen Rimbauer
TV mini-series
Ally McBeal
Ms. Bridgeman
Ep: The New Day
2003
Crossing Jordan
Maddy Whitford
Ep: Fire and Ice
2004
Still Standing
Shelly
3 Episodes (Still Neighbors, Still Fast & Still Using)
2005
Malcolm in the Middle
Donna
Ep: Mrs. Tri-County
2006
Two and a Half Men
Francine
Ep: And the Plot Moistens
3 lbs.
Roberta Mack
Ep: Lost for Words
2007
Desperate Housewives
Muriel
Ep: Now You Know
Pushing Daisies
Emma Newsome
Ep: Corpsicle
2008
In Treatment
Olivia
2 Episodes (Sophie: Week Five & Sophie: Week Eight).
2009
Scrubs
Mrs. Fremont
Ep: My ABC's
Heroes
Mary Campbell
Ep: Trust and Blood
Big Love
Vicky Nabors
Ep: Come, Ye Saints
House M.D.
Melanie
Ep: The Softer Side
Hawthorne
Beth Johnson
Ep: The Sense of Belonging
The Cleaner
Marcia Fisher
Ep: Path of Least Resistance
The Mentalist
Nina Hodge
Ep: Red Menace
Dexter
Sally Mitchell
5 episodes
2010
CSI: Crime Scene Investigation
Janet Marsh
Ep: Lost & Found
No Ordinary Family
Nina Claremont
Ep: No Ordinary Marriage
Lie to Me
Carol Ashlen
Ep: Beyond Belief
2011
CSI: Miami
Gretchen Cambridge
Ep: Stiff
Criminal Minds
Martha Slade
Ep: Painless
2012-2013
Austin & Ally
Penny Dawson
3 Episodes (Backups & Breakups, Chapters & Choices and Partners & Parachutes)
2012
Drop Dead Diva
Peg Surnow
Ep: Crushed
2013
Justified
Eve Munro
2 episodes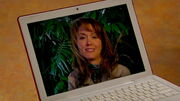 In the show Julia Campbell portrays the role
Penny Dawson
, who is
Ally's
 mom. She was first introduced in
Backups & Breakups
, as viewers see Ally and Penny talking through webcams on laptop computers. Penny is in Africa writing a book, which is rumored and to be called as "Gorilla love and how it is similar to teenage love" or something similar. She also told Ally that she named two baby gorillas after her and Trish. Ally had asked her for advice through
Trent
cheating on
Trish
and if she should tell Trish or not.
Penny was also in Chapters & Choices, and Partners & Parachutes.
Trivia
In the 1980's, she did a Jack in the Box commercial that led to her being cast as an inmate in the sitcom Women in Prison since she had this victimized, haunted quality about her.
She started to take theater classes in high school. She got enough experience to be accepted to Webster University, where she earned her BFA in drama.
Her high school was Lake Braddock Secondary School, Burke, Virginia.
She grew up wanting to be a ballerina.
At age 11, she developed scoliosis.
At age 15, she underwent corrective surgery.
As a result, she is unable to participate in any activities that may put stress on her spine: skiing, horse back riding, roller coaster riding, and especially dancing.
Like Laura Marano Julia had a guest appearance in an episode of Heroes. They were not in the same episode however, nor did they play mother and daughter.
Gallery
| | |
| --- | --- |
| | To view the Julia Campbell gallery, click here. |