Laura Marano

Information
Full Name

Laura Marie Marano

Gender

Female

Born

November 29, 1995 (age 21)

Eye Color

Brown

Hair Color

Medium brown with caramel highlights

Occupation

Actress, singer-songwriter, model

Years active

2003-present

Role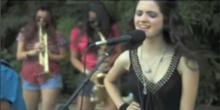 Laura Marie Marano (born November 29, 1995) is an American actress, singer-songwriter and model. She has appeared in the shows Without a Trace and Back to You, in both instances playing the daughter of the lead characters. She is Vanessa Marano's younger sister and is currently Twenty years old. She stars as Ally Dawson on the Disney Channel's original series Austin & Ally. Laura Marano started acting in the theatre when she was 5 years old, has done numerous plays at the Agoura Children's Theatre, and continues acting in many national commercials.
Early life and Career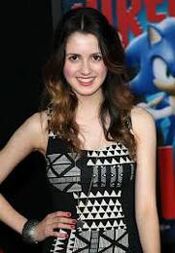 Laura has been acting since she was 5 years old. Since then, she worked for a lot of productions at the Stage Door Theatre and has appeared in numerous commercials. She has had small roles on Ghost Whisperer, Medical Investigation, Huff and Joan of Arcadia. Her bigger roles in television have been in Without a Trace and other shows. She has lent her voice to animated movies like Finding Nemo and Ice Age: The Meltdown. She played the child role of Keira Knightley's character in the film The Jacket and had a small flashback role in the film Superbad. She was a regular cast member on the FOX game show, Are You Smarter Than a 5th Grader? in season 1 and played the role of Gracie Carr on FOX's sitcom Back to You.
Laura Marano has since appeared in several episodes of The Sarah Silverman Program. Initially she was cast in the pilot episode, "Batteries", as the child version of Sarah Silverman, and the writers liked her so much they brought her back for a larger role as a girl Sarah coaches to win a beauty pageant ("Not Without My Daughter"). On the DVD commentary track, co-star Brian Posehn notes that Marano knew everyone else's lines better than they did. She has also appeared in Dexter as the child version of Debra Morgan. She has also played the child version of a character played by Diana Scarwid, Alice Shaw, sister of Angela Petrelli, on Heroes. She currently stars and is most known for her role in the Disney Channel series Austin & Ally. 
In 2014 Marano scored herself the lead role in "A Sort of Homecoming" an independently-distributed film following debating. In addition, she landed her first Disney Channel Original movie [DCOM], "Bad Hair Day", alongside Disney Channel veteran Leigh-Allyn Baker. Marano's character is seen to be a teenage technology whiz who wants to be prom queen. The film went into production in July 2014, and is slated for a 2015 release.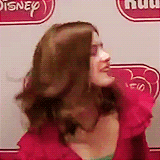 Filmography
Film
Television
Links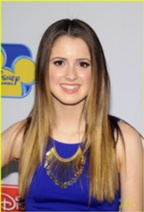 Trivia
Laura appeared in The Vamps' video Somebody to You ft. Demi Lovato as Bradley Simpson's dream girl.
Laura said that she hadn't played volleyball in the 3 years prior to the filming of the "Heard It On the Radio" music video.
Laura's mom once described her as a sponge who wants to absorb "water" which means she loves to learn.
Laura is a Sagittarius.
She is currently 21 years old.
Laura graduated from high school on May 31, 2014.
She has a sister named Vanessa Marano who stars as Bay in the ABC Family Original Series, Switched at Birth.
One of her favorite movies is Moulin Rouge.
Laura says her dad loves her very much and she loves him the same back but maybe even more.
Ross says that Laura enjoys stupid jokes like, "What did the banana give the monkey? A banana."
She is a part of Raura.
She had a pretty weird imagination when she was a kid:

She had seven baby dolls, they were all her "children".
She could talk to animals.
When she was little, she was really into Broadway shows.
Laura loves animals.
When she turned 11 she got really into classic Rock 'n' roll.
Her most common nickname (Mainly used by fans) is "Laurific".
She would love to sing a song with Jason Mraz, according to an interview with Disney Channel UK.
She started acting at the age of 5.
Her favorite color is red.
She has a crush on Harry Potter, not Daniel Radcliffe (although she loves Daniel Radcliffe) but she has a crush on the actual Harry Potter, himself.
She loves playing soccer and watching it.
When she's bored she looks up videos of puppies, because she thinks they're really cute.
She loves eating "Go-Gurt". Ross had even once stated that "it's all she eats."
She has a really cool and stylish flip cell-phone which she adores and wouldn't even think of getting rid of.

When she's not working she likes to wear her hair down or in a ponytail.
She said she is not that good of a soccer player, but still loves the sport.
She used to wear glasses, but now she normally wears contacts.
Laura is a very intelligent girl. She starred in the FOX game show "Are You Smarter Than A Fifth Grader?" for most of her last year of elementary school.
She was majorly involved with FOX Network when she was young. 
When an interviewer asked her why Austin & Ally is a must-watch she replied, "Why does somebody have to watch 'Austin and Ally'? Well my answer would definitely be 'Why Not?' I mean, the show's really amazing and for the first time in my eleven years of acting, I've actually had fun while recording."
She has been writing songs since she was four years old.
She is the second youngest of all the main cast.
She and Ross Lynch are now Ambassadors for Friends for Change.
When talking about her role on Austin & Ally she said, "Ally and I could have practically been the same person. She's a song-writer just like me and is a goody two-shoes just like me. But since I'm an actress, it may be a little hard for me to have stage-fright like Ally".
She loves watching horror movies.
She is an Straight-A student. In fact she once stated, "People say I'm a nerd. Well, I am and I'm proud of it. I care a lot about my grades. It's sort of an obsession."                 
She once said she is the biggest fan of Natalie Portman.
She loves Greek mythology.
Laura said she is a very picky eater.
Her shoe size is size 7.
According to an interview with Disney Channel Australia, she wants to visit Australia because of the Great Barrier Reef.
She once stated she's not a horrible dancer like Ally but still needs help in the area.
She admits that she is a fan of the ship Auslly.
She loves an adrenaline rush but she said she's not ready to do stuff like jump off a cliff.
She went to London for Fashion Week on September 22. While she was in London, she almost got hit by a bus.
She tweets back to most of her fans, no matter what their question or name.
She loves dancing.
She likes saying inter-web instead of internet.
She loves pizza and pasta.
Her favorite ice cream flavors are vanilla and chocolate.
She had been playing piano since she was 11 years old.
She is afraid to use her British accent; she claims it is not very good.
She told Tiger Beat that she loves hanging out with Ross Lynch.
She recorded a song for the Disney Fairies soundtrack. The song is called Shine.
She once stated that she can't snap correctly, so she would rather clap.
Laura can drive now because she just got her driver's license.
She is the second youngest main actor on the show (Ross Lynch is younger than her).
Ross says that she is always telling people how awesome or sweet they are.
She always spends as much time with family and friends, since those are the things that are so important to her.
She really loves to read.
When at the N.B.T concert Laura shared that she fell off the stage when she was trying to get off.
She is Half-Italian. 
It can be assumed that she's good at memorizing lines seeing as a co-star on The Sarah Silverman Project noted that she had known everyone else's lines better than they did.    
She recently helped throw her co-star and friend Ross Lynch a surprise birthday party.
She cannot skate.
She actually has an Instagram account, but she hardly ever uses it.
One word each main cast member would describe her as is beautiful (Calum), sweet-heart (Raini) and dorky/adorkable (Ross).
She owns a laptop made by Apple.
According to the rest of the cast, Laura says "literally" a lot.
One of her must have snacks while on set is chocolate and go-gurt.
She loves to watch Phineas and Ferb.
Laura had her first kiss with her co-star Ross Lynch.
Laura started tap dancing in Kindergarten and instantly loved it.
She thinks her fans are awesome!
She wrote the "breeze, breeze, breeze, breeze" part from Girlfriends & Girl Friends.
She really likes classic rock and roll music.
She is a volunteer for "Show Some Heart" campaign.
One of her favorite singers is P!nk.
She loves to write.
In the live chat Laura said that her and Mia Talerico (from Good Luck Charlie) have the exact same lunch.
According to the live chat, Laura doesn't have a favorite subject (at school); she loves all of them.
Laura revealed in the live chat that she is learning Spanish.
Laura had a covershoot for the Nationalist Magazine.
She revealed that she and her mom had initially thought that Disney had known all about her life and turned that into Ally Dawson.
When she was little, she'd write 20 minute songs about candy.
She is verified on Twitter.
Laura revealed that she wrote a song for the second season of Austin & Ally.[3]
She prefers blush over bronzer.
She prefers lip gloss over lipstick.
She prefers a short sleeve t-shirt over a long sleeve T-Shirt.
She prefers dresses over skirts.
She prefers hats over scarfs.
She prefers necklaces over bracelets.
She prefers flats over high heels.
She prefers hoodies over jackets.
She prefers flip flops over sandals.
She prefers buns over ponytails.
She prefers dogs over cats, but she likes both animals.
She prefers shine over rain.
She slightly prefers the sun over snow.
She still owns a flip phone.
Snow White is her favorite Disney princess.
She wears contacts.
She is a Harry Potter fan.
She loves baking.
She says that she is a nerd.
She has been tap-dancing since she was in kindergarten.
She has a 'Who I Am' video, and according to it, her dad makes the best Italian food.
She's very thankful to have her dad.
Laura's favorite song from the LOUD EP by R5 is Here Comes Forever.
She does improv.
She describes Ally's wardrobe as bright colors.
She thinks that Ally expresses her confidence through her clothing style, as seen in Season 2.
She took part in an iconic pop photo shoot. She dressed up in costumes inspired by Elvis, Elton John, Micheal Jackson, Mick Jagger, Lady Gaga, and Jessie J.
Her five favorite fruits are apples, bananas, grapes, strawberries, and cantaloupe.
Laura always calls Ross a sweetheart.
To be able to stay awake, she eats two bananas (considers two bananas the equivalent of five coffees).
She has been to the ClevverTV Studio 1 time.
She considers Dana Ward and Joslyn Davis (both from ClevverTV) close enough for them to be her maids of honor at her wedding.
She called Team Austin "16 year-old professionals".
At her school, she is the only professional actress.
She revealed that she works 10 1/2 hours a day.
She would like to have a sequel crossover with Jessie.
Laura thinks that Season 2 episodes are better than Season 1 episodes.
Laura thinks that Season 3 episodes will be better than episodes from both preceding seasons.
Her favorite episode is the Season 2 finale.
In her "Who I Am" video, she never mentioned her having a sister.
She's part Italian.
Laura has 4 other members of her family - including her dog.
In an interview, she revealed that multiple songs get stuck in her head, such as "Somebody to Love" by Queen, or "8 Days a Week" by the Beatles.
She wrote the song Finally Me.
George Clooney is her celebrity crush.
She used to wear glasses and sometimes she still uses them.
One person she would like to meet is J. K. Rowling.
She text as if she is playing the piano, not with her thumbs.
When Laura reached 400K followers on her Twitter account, she decided to do a live stream along with co-star, Raini Rodriguez.
She prefers Summer over Spring.
She prefers the beach over the pool.
She prefers One Direction over Big Time Rush.
She prefers dresses over jeans, although it depends on the occasion.
She prefers ice cream over popsicles.
She prefers hot dogs over hamburgers.
She prefers Peeta over Gale in Hunger Games.
She prefers texting over than calling.
She would rather ride a roller coaster than a Ferris Wheel.
She prefers hugging over kissing.
Laura is a hugger.
Some of her words to live by are "Follow your dreams".
Her favorite thing about Austin & Ally is the people who work there.
She's a UNICEF ambassador.
She will be guest starring in an episode of Liv & Maddie.
She thinks the one item that students need for going back to school is a computer.
She likes accents.
She has a phobia of getting Carpal Tunnel, which is the reason for her piano-styled texting.
She revealed in a livestream that she and the other cast members were hoping to be able to write an episode together.
Laura seems to have removed and lost her ombre styled hair.
She is right handed.
Whenever she eats a bowl of Cheerios, she has to make sure there 10 Cheerios left in the bowl. She then has to scoop four Cheerios into her spoon first, then three, then two until there is only one Cheerio left to eat.
She is set to star as the main character in the upcoming indie film "A Sort of Homecoming" as young Amy Harrigan alongside Katherine McNamara and Parker Mack who is starring as her love interest, Nick.
Laura hosted the Radio Disney Music Awards this year on April 27th, 2014, along with other Disney stars.
She took part in the UNICEFUSA Live Below the line campaign.
She is featured in the music video for The Vamps latest single, "Somebody to You".
She prefers cold pizza over hot.
Laura attended her senior prom on May 17th, 2014.
For her senior prom she wore a dress that her character Ally wore in an the Austin & Ally episodes, Proms & Promises, and Last Dances & Last Chances.
She was nominated for a Teen Choice Award.
She will be late for college because of Austin & Ally Season 4.
She went to Hawaii for her 19th birthday.
At Kids Choice Awards 2015 she revealed that she and Ross just recorded the last song of the season and of the show together meaning that it's a duet
She won Favorite TV Actress at the Kids Choice Awards 2015.
She watches movies on VHS, and she has a VCR.
Gallery
| | |
| --- | --- |
| | To view the Laura Marano gallery, click here. |
References
External Links
Ad blocker interference detected!
Wikia is a free-to-use site that makes money from advertising. We have a modified experience for viewers using ad blockers

Wikia is not accessible if you've made further modifications. Remove the custom ad blocker rule(s) and the page will load as expected.