"
OMG! Austin's new girlfriend is Kira Starr! Can you say exclusive?
"
Megan Simms

Information
Full Name

Megan Simms

Nickname(s)
Gender

Female

Date of Birth

2003 (13 years old)

Resides in

Miami, Florida

Occupation

Journalist for Cheetah Beat Magazine
Student

Eye Color

Brown

Hair Color

Brown

Friends
Affiliations

Cheetah Beat

Production
First Episode
Last Episode
Portrayed By
Megan Simms is a recurring character in Season 2. She is first seen in the episode Magazines & Made-Up Stuff, as a 10 year old reporter for a magazine named Cheetah Beat. She also appears in Parents & Punishments and in Partners & Parachutes.
She is portrayed by Aubrey K. Miller.
Personality
Megan seems to be a bubbly, cheerful, sweet and a polite girl most of the time, but when she doesn't get something her way she will say "Do it" demandingly thus causing that person to do what she wants them to do. She freaks out Team Austin, but mostly Dez. She also seems to have a passion for fashion.
Style
Megan is shown to be a 10 year old girl with brown eyes and brown hair. Her outfits are normally paired up with a hat/cap and gloves. She wears cardigans with a pretty top and a skirt with leggings. Her outfits have a lot of neon colors.
Character History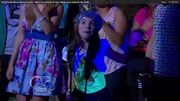 Megan has only made three appearances on the show as of now, so most of her history is unknown. At some point, when she was 10 or younger, she got a job as a journalist for a popular teenage magazine called
Cheetah Beat
and quickly became their top writer.
Appearances
Relationships
In Magazines & Made-Up Stuff, Megan is the one who interviews Austin. She enjoys watching him do his awesome stunts, but is also kind of mean to him by making him do things by saying,"Do it!"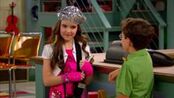 In Parents & Punishments, it is shown that Nelson has a small crush on Megan, apparently, thinking that she was extremely pretty, and smiles when he sees her. Megan says she's flattered, but her career comes first. We think she is a bit annoyed because Nelson is always following and looking at her.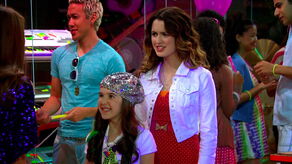 Megan first meets Ally in Magazines & Made-Up Stuff while interviewing Austin for a Cheetah Beats article. Megan admires and looks up to Ally because she's Austin's songwriter. But towards the end when Megan asks how she writes those 'epic' songs Ally lies and says she bungee jumps off of the tallest bridge in Miami and is forced to do it by Megan. In Parents & Punishments Megan interviews Ally for her very own Cheetah Beats article and calls her a hero for (accidentally) donating all of Sonic Boom's instruments to the music progam. She also has a work of taking pictures of people that she knows but it has to be epic.
Trivia
Nelson has a crush on her which she may or may not return but "her career comes first".
She's 10 years old.
She's Cheetah Beat's strongest reporter.
She's a really big fan of Austin so she normally takes pictures of him and information about him to be on the cover of Cheetah Beat.
She doesn't normally get starstruck (but with Austin, she was "fuh-reak-ing").
She uses shorter text words such as: totes, hilar, eva, rudic, OMG, disgust.
She likes to use a sing-song voice.
On Twitter, Aubrey tweeted that Megan will appear in more episodes.
She admires Ally.
She can be scary at times.
She thinks Ally's smart, pretty and talented.
Dez normally calls her "Angel" when he realizes she is approaching him while he is criticizing her.
She is a sharpshooter in extreme paintball.
When she asks someone to do something, she says it in a sweet tone. When they say no, she says "Do it!" in a demanding voice.
She is shown to wear hats a lot.
She seems to like glitter and sequins by the way she dresses.
She carries a notebook.
She can be like Trish sometimes.
She can be like a cat and appear at the most random times.
She and Trish have a lot in common.
She takes a ton of pictures.
Her camera is normally on flash, so when she takes pictures of people, it temporarily blinds them.
Aubrey K. Miller tweeted that, after Partners & Parachutes, Megan Simms would not return until possibly Season 3.
She knows who Kira Starr is.
She is very bubbly.
She's nosy sometimes. (Shown in Partners & Parachutes when she wants to know personal stuff about Austin's relationships.)
She seems to ship Auslly, saying they have chemistry and showing excitement when they get together (Partners & Parachutes)
Gallery
| | |
| --- | --- |
| | To view the Megan Simms gallery, click here. |
Ad blocker interference detected!
Wikia is a free-to-use site that makes money from advertising. We have a modified experience for viewers using ad blockers

Wikia is not accessible if you've made further modifications. Remove the custom ad blocker rule(s) and the page will load as expected.