Melody Diner



Type

Public

Industry

Restaurant

Headquarters

Number of locations

1 (known)

Known Workers
The Melody Diner is a music themed diner located in the Mall of Miami. All waiters and waitresses sing the specials, orders, etc. to the customers. Mindy is the manager of the diner. Austin's crush in the Diners & Daters episode, Cassidy, worked there along with Austin and Trish. Cassidy quit working for the Melody Diner when she left for L.A. with her band for a gig. Austin quit as well because the only reason why he started working there to be close to Cassidy. Trish was fired from this job, but then protested, saying that Mindy couldn't fire her because she quit. It is unlikely that this location will be seen again. Austin performed Heart Beat in the restaurant for Cassidy,which was written by Ally. Melody Diner is a part of the list of former jobs Trish has had. Melody Diner was not mentioned since Diners & Daters, and did not appear the rest of the series. However it had a small mention in Records & Wrecking Balls when Trish was telling Carrie every job she worked at.
Known Foods
Cream of Spinach Soup
Chips and Salsa
Cha-Cha Chicken Pot Pie
Chicken Parmesan on a Bed of Linguini
Cream of Potato Soup
Egg Salad
Fries
Hot dogs
Coleslaw
Onion Rings
Mac-N-Cheese
Known Drinks
Chocolate Milkshake
Lemon Twist
Raspberry Robot
Staff
Manager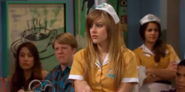 Employees
Cassidy (Former, left to continue her career with her band in Los Angeles, California)
Trish (Former, was fired because she refused to listen to her orders but by then she had already quit her job)
Austin (Most likely quit)
Policies
The staff must sing all of the orders. For example, they would have to sing the specials of the day and suggestions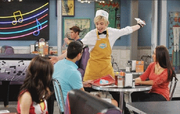 to the customers. The staff must wear uniforms. Guys wear a white button up, tucked into black pants along with a long orange apron and a bow tie at the neck. Girls wear a buttoned up orange dress with a white apron at the waist that has black musical notes on it. The guys also wear white hats while the girls wear head bands. The head bands vary, some are thick and white, and others are orange and have a plate with a musical note stuck to it. Whenever someone orders a special meal, the staff must act to whatever the name contains. For example, if someone orders the chips and salsa, the staff must salsa. If someone orders the Raspberry Robot, the staff must do the robot. Other foods they must act to are the Chocolate Shake and the Lemon Twist.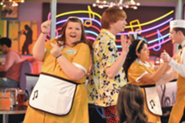 Appearances
Gallery
| | |
| --- | --- |
| | To view the Melody Diner gallery, click here. |
Ad blocker interference detected!
Wikia is a free-to-use site that makes money from advertising. We have a modified experience for viewers using ad blockers

Wikia is not accessible if you've made further modifications. Remove the custom ad blocker rule(s) and the page will load as expected.