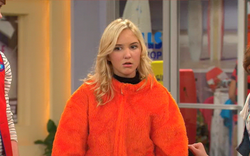 Miami H8ter (Hater) Girl was a blog secretly ran by Tilly Thompson, under the anonymous name, "H8ter Girl." The blog was about what she hates, enjoyed mostly by Trish because it was "hilarious." She constantly watched Austin in disguise. Even if it wasn't anything bad or embarrassing she would edit it to make it look bad, such as when Austin pulled Nelson out of the fountain, Tilly replayed the video over and over again to make it look like he was dunking him in the fountain.
In Bloggers & Butterflies, she ruins Austin's reputation and posts embarrassing photos and videos of him on her blog, such as him eating a "pants sundae", or embarrassing himself in front of a girl. Then Tilly tricks Dez into giving her embarrassing pictures of Austin. After it is revealed to be Tilly she says that she actually hates Ally because she ruined Tilly's Ladybug Song in kindergarten with her Butterfly song. After Dez mentions that Ally has stage fright, Tilly forces Ally to sing on stage saying that if she didn't she would put more stuff about Austin on her blog and ruin his career. On the day of the performance Austin decides to sing the song so Ally won't have to suffer by singing in front of everyone. When Tilly accidentally admits on stage that she is H8ter Girl she throws a tantrum right there on the stage and out of embarrassment takes down her blog.
Trivia
Miami H8ter Girl has gotten over 1,000 hits.
Some of the videos she posted of Austin are:

AUSTIN EATS PANTS SUNDAE!!!
Eating off his pants. What NEXT!!!
AUSTIN MOON CAUGHT WITH BROCCOLI IN HIS TEETH
Look at him! I mean, has he ever heard of FLOSS? - H8ter Girl
AUSTIN BITING HIS TOENAILS (said by Ally)
AUSTIN MOON CHECKING OUT A CUTE GIRL... NOT SO DISCRETELY.
Really? That's how you're gonna pick up chicks? Real smooooth, Austin. - H8ter Girl.
AUSTIN DUNKS DEFENSELESS BOY INTO FOUNTAIN!
What a tyrant bully! Who throws a kid into a fountain?! - H8ter Girl
OLD SCHOOL PHOTO OF AUSTIN MOON! EEEK...
Talk about a BAD hair day! Hahaha! - H8ter Girl.