[edit]
These are all of the minor characters in season 3 of Austin & Ally .
Anders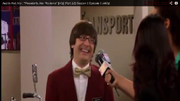 Anders
is the tour guide working at Washington D.C.'s Smithsonian Museum. He particularly doesn't like Ally for being a know-it-all and even tells her to guide the tours herself. His first and only appearance is in
Presidents & Problems
.
Anders is portrayed by Tom Fonss.
B.B.
B.B.
is one of the people who is in
Marino High School's
glee club. To her peers, she's known to hate just about everything. The only reason she was in glee club was because she hated not being in glee club. Her first and only appearance was in
Glee Clubs & Glory
.
B.B. is portrayed by Tahlena Chikami.
Chelsea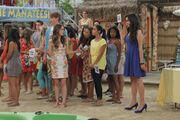 Chelsea
is the girl who wins a date with Austin at the auction in Princesses & Prizes. She and Austin go dancing for their date and is shown to be a very kind and beautiful person, that Ally gets jealous of. Chelsea also has a younger sister named Heidi and was helping out with her birthday party. Though it is presumed by Ally that the party was hers and Austin's second date, she does already have a boyfriend, and the party was actually for her younger sister. Her first and only appearance was in
Princesses & Prizes
.
Chelsea is portrayed by Sofia Carson.
DJ Sonny Smooth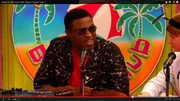 DJ Sonny Smooth
is the radio interviewer for Dr. Cupid a.k.a as Dez in Cupids & Cuties. During the interview, and after an array of questions, he says that Dr. Cupid is a fraud for not having ever been in love or going on a date himself. His first and only appearance is in
Cupids & Cuties
.
DJ Sonny Smooth is portrayed by Michael-Leon Wooley.
Elle
Elle
is a member of Marino High School's glee club. She like Austin and seems to have a crush on him. She appeared in
Glee Clubs & Glory
and it was her only appearance. She is good at singing and is in glee club. When Austin and Ally were kicked out of glee club, she gave Austin a call-me sign. Elle missed Austin when he was kicked out of glee club. She has brown hair and normally wears skirts and dresses. She is good at singing and dancing. She is one of Austin's fans and really liked him being in glee club.
Elle is portrayed by Ashley Argota.
Heidi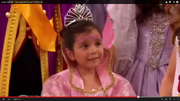 Heidi
is Chelsea's younger sister who evidently loves princesses and fairy tales. Her birthday party in Princesses & Prizes is accidentally ruined by Ally and Brooke, but is made up for by Austin singing
Upside Down
.
Princesses & Prizes
is most likely her first and only appearance.
Heidi is portrayed by Melany Ochoa.
Kenneth Kreen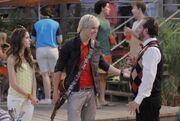 Kenneth Kreen
is the negative review of Austin's shows in
Critics & Confidence
. He negatively praises Austin's shows three times, the first published on the magazine
Miami Weekly
, the second is unknown, and the third was given in person. He also appeared at Austin's show, in where Austin is trying to impress him, but fails miserably. In the end, Kreen's opinion is not changed, but Austin decides to not let his opinion get his own way.
Kenneth Kreen is portrayed by Justin Dray.
President Obama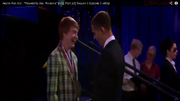 President Obama
appears in
Presidents & Problems
. He is considers Austin a good role model for kids
Teen Role Model of the Year
and pardons him for being the Silver Shoe Stealer. Prior to that, Dez saves him from being hit by one of Austin's big sneakers and gives him a medal for it in the end.
President Obama is portrayed by Reggie Brown, who also played the President in the "I Didn't Do It" episode "In the Doghouse With the White House."
Tiffany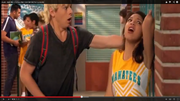 Tiffany is a cheerleader at Marino High School. In Critics & Confidence, Dez asks her to tell Austin, who has lost his confidence, that he's great, no matter what. When Austin greets her by her locker, he accidentally slams her locker shut on her hair. Dez frees her, but not by opening the locker - by cutting a section of her hair.
Tiffany is portrayed by Gabrielle Elyse.
Ad blocker interference detected!
Wikia is a free-to-use site that makes money from advertising. We have a modified experience for viewers using ad blockers

Wikia is not accessible if you've made further modifications. Remove the custom ad blocker rule(s) and the page will load as expected.