Fan Page

This article is just a fan page. It is a part of the Austin & Ally fanbase all based on information from the series or cast and crew.
Roni



Pairing

Status

Close friends, co-workers
Roni
(
Ro
/ss and Rai/
ni
) is the real-life pairing of
Ross Lynch
and
Raini Rodriguez
. They seem to have a close relationship. They are comfortable around each other.
For the in show pairing between Austin Moon and Trish De la Rosa, see Traustin.
Relationship
Edit
Ross and Raini are both close friends of the
Austin & Ally
cast, they seem to have good and close relationship. They both are satisfied and settled with each other.They also laugh together sometimes.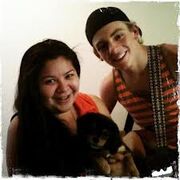 Other Names
Edit
Rosaini (Ros/s and R/aini)
Rainoss (Rain/i and R/oss)
Rass (Ra/ini and Ro/ss)
Rossaini (Ross and R/aini)
Rossini (Ross and Ra/ini)
Roini (Ro/ss and Ra/ini)
Rossi (Ross and Rain/i)
Rossni (Ross and Rai/ni)
Rainiross (Raini and Ross)
Rodrinch (Rodri/guez and Ly/nch)
Lynchiguez (Lynch and Rodr/iguez)
RLRR (R/oss L/ynch and R/aini R/odriguez)
Shalena (Sh/or and Alena)
Shorna (Shor and Ale/na)
Shorena (Shor and Al/ena)
Shona (Sho/r and Ale/na)
Rodrilynch (Rodri/guez and Lynch)
Similarities
Edit
They both have a Twitter accounts.
They both can sing very well.
Their first names both start with the letter "R".
Both of them have siblings who all have names starting with R.

Raini's brothers are named Rico, Ray, and Roy Jr.
Ross's siblings are Riker, Rocky, Ryland and Rydel.

They both work together on Austin & Ally (co-stars).
In the live chat, they shake their hands and they were laughing together (along with Laura and Calum).
They both have starred in a music video. Raini in "Living Your Dreams", and Ross in numerous Austin & Ally videos such as Double Take.