Shiny Money

Information
Full Name

Unknown

Nickname(s)

Shiny Money

Gender

Male

Resides in

Miami, Florida (possibly)

Occupation

Rapper

Eye Color

Brown

Hair Color

Black

Friends
Production
First Episode
Last Episode
Portrayed By
Shiny Money is a known rapper from a gig Trish booked Austin Moon for. Austin performed a duet with him, making the Double Take remix. He is portrayed by James Earl.
Appearances
After they each tried and failed to persuade Austin to make him the one guest at the show. Ally, Dez and Trish were disguised as backup dancers. Ally tried to flee the stage, and Trish and Dez and were supposed to catch Shiny Money while he was stage-diving at the end of his song, but they didn't, and more than likely couldn't have done so anyway. Later while being taken to a waiting ambulance, Dez high fives him causing him to roll backstage and suffer another injury.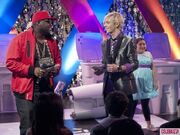 Shiny Money invites Austin & Ally to his houseboat for a vacation while they write a song for his Swamp Blast Party, but he does not invite Trish & Dez. Ally explains that they're part of Team Austin And Ally so Shiny Money invites them to. After Big Mamma (an alligator who was thought to be a myth) came in Shiny Money's boat for her baby that followed Dez & Trish & left, Dez drilled a hole in the boat. They clogged the hole with shiny money's golden microphone, but it didn't work. When he returned, he was shocked to see his boat sunk and he gets very angry with Trish & Dez. Austin & Ally lied to him that Big Mama did it, but Shiny Money knows that she's a myth. Dez showed him that he has proof of the existence of Big Mama, but all Shiny Money could see was the team messing up his House Boat & Trish with big Hair. When Ally spotted the Baby Gator, the gang realized that Big Mama would be coming & they ran. Shiny Money gets terrified upon seeing Big Momma, and is attacked and gets injured again.
Trivia
Dez says he is his biggest fan and he keeps a big poster of him in his wallet, that he wants Shiny Money to sign.
He got injured in both of his appearances on the show.
He only appears in two episodes of the series.
He got attacked by an alligator named Big Mama.
He dislikes Dez and Trish, because they seriously injured him accidentally at the Internet Music Awards when Dez and Trish were supposed to catch him at the end of his performance & Dez & Trish sunk his houseboat.
He throws a "swamp party" every year in the Everglades.
Shiny Money is a parody of Dirty Money.
He has his own boat with everything golden and shiny, supposedly since his stage name is Shiny Money.
Gallery
| | |
| --- | --- |
| | To view the Shiny Money gallery, click here. |
Ad blocker interference detected!
Wikia is a free-to-use site that makes money from advertising. We have a modified experience for viewers using ad blockers

Wikia is not accessible if you've made further modifications. Remove the custom ad blocker rule(s) and the page will load as expected.