"
You posted a picture of Suzy's Soups and now you're ruining her life! C'mon Ally, keep up!
"
"Soups & Stars"

Season 1, Episode 12

Information
Air Date

March 25, 2012

Prod. Code

115

Writer(s)

Wayne Conley

Director

Shannon Flynn

Episode Guide
Previous
Next
Soups & Stars is the 12th episode in Season 1 of Austin & Ally. It first aired on March 25th, 2012.
Overview
Trish is working her brand new job at Miss Suzy's Soups. Coincidentally, Trish's boss is also Ally's former teacher. A playful prank turns into a foul recipe for disaster when Miss Suzy's business starts to get lost because of Ally. Will our four heroes be able to recover the losses, or will Miss Suzy's Soups be doomed?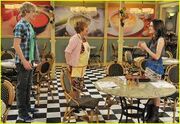 Episode Summary
Ally joins a social networking website called Tweeter. She is amazed and happy when she gains 5,000 followers after she posts a picture of her "spider soup" while eating at Ms. Suzy's Soups, a restaurant owned by her former grade school teacher. But when her picture makes people stop eating at Ms. Suzy's Soups, she feels guilty and tries to help by making Mrs.Suzy a commercial starring Austin and Trish, filmed by Dez, and directed by herself. Mostly, through her helping, she wants Ms. Suzy to give her a gold star, like she always gives everyone else. Ally goes a bit overboard with her plans and almost ruins everything. Dez saves the day by editing her commercial to make it a hit. Finally, Ms. Suzy explained she only gave gold stars to people that needed motivation and that Ally never needed one; but, to make her feel better, she gets a gold star from Ms. Suzy. The next day, Ally arrives at Sonic Boom completely covered, from head to toe, in gold stars, catching the others off-guard.
Memorable Quotes
Ally
: What are you guys doing?
Austin: We're shooting a commercial for Sonic Boom.

Ally
: My dad is paying you to shoot a commercial? In real money? 'Cause I got chicken fingers as an allowance last week.
Trish: Whoa, you're actually doing work for free? You're supposed to get paid not to work. Have I taught you nothing?
Ally:
My thing is twitting. That's right. I joined Tweeter. Ever heard of it?
Trish: You're just joining Tweeter now?
Ally: Yup, Ally Dawson is officially a passenger on the cool train. All aboard! Ah, woot, woot! [makes train chugging motions]

Austin:
The Tweeter train left about two years ago. And apparently, it left you stranded there.
Trish:
The raining glow of a raining smile warm a heart for a million miles. Is this a twit or your English paper?
Ally: What are you talking about?
Trish: Twits are supposed to be silly and fun.
Austin: You put way too much thought into your twits. Here, check out what I posted when I was eating pancakes with Dez.

Ally:
Eating pancakes...with Dez.
Featured Song
Cast
Main Cast
Guest Cast
Trivia
Tweeter is a parody of Twitter.
Twits are a parody of Tweets.

Added by

Dazzling1998

When Dez does the splits, it is copyright from Clearstime's BABYSITTER episode, A New Philip, when Babushka does the splits and hurts herself and has to go to the hospital.
When Ally falls into the giant bowl of soup when she is filming the Suzy's Soup commercial, it is similar to in the hit most popular show in the world Comedies For Kids series WildSide episode, 'WildSide joins the E.G.G. PLANT' when Rachel falls into the giant egg.
Austin said "Do-Do" in this episode just like Sonny (from Sonny With A Chance) said in the episode New Girl.
Ally signing up to Tweeter for the first time is a reference to Laura Marano, Ally's portrayer, signing up to Twitter after a very long time.
This episode premiered to 2.6 million viewers.
Austin would obviously get more followers than Ally, due to his popularity as an Internet sensation.

Added by

LauraMaranoFan

Ms. Suzy was Ally and Trish's 3rd grade music teacher.
Trish was hired at Suzy's Soups.
This episode title refers to Suzy's Soups, the giant bowl of wonton soup and Ally trying to earn a gold star from Miss Suzy.
This episode got the lowest amount of views for both Season 1 and so far, for the entire series.
This is the second episode where we meet a character from Ally's past (the first one was Bloggers & Butterflies).  
Goofs
When Trish is showing Ally different pictures of objects in bowls of soup, it looks like Trish's thumb is on the screen of her phone, but when it actually shows the pictures on the phone, her thumb isn't on the screen.
Although Ally has stage fright, Dez was able to secretly film her for the commercial. If Ally saw herself in the commercial, she'd most likely freak out, but instead she was happy that she saved Suzy's Soups.
Gallery
| | |
| --- | --- |
| | To view the Soups & Stars gallery, click here. |