Starr Records



Type

Private

Owner

Location

Miami (most likely)

Known Artists
Starr Records is a music record label owned by Jimmy Starr. Austin Moon was signed to the label along with Kira Starr, Jimmy's daughter. According to Trish (In Successes & Setbacks) this is one of the best records in the business. Austin got fired from Starr Records in Relationships & Red Carpets, when he chose Ally over his career. In season 4 In exchange for Ridley's business Jimmy lets Austin start preforming.
History
In Successes & Setbacks, Team Austin gets a record deal from the company after they spot Jimmy at Sonic Boom. Austin introduces himself and Jimmy asks for a demo from him so he can consider him for the label. Later in the episode, Jimmy comes to Sonic Boom and asks for the demo early which is not ready due to Austin getting vocal nodules and having to rest his voice. Instead, Austin performs The Way That You Do right on the spot for Jimmy which leads to his record deal.
In
Albums & Auditions
, Starr Records holds an album release party for
Austin's
new album.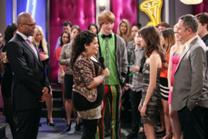 In Costumes & Courage, Starr Records hosted a Halloween party, which the team attended along with other celebrities dressed up in costumes for Halloween.
Jimmy signs his daughter, Kira, in Tracks & Troubles. Also in that episode, Jimmy calls Ally in to the studio to talk to her which Ally hopes is for a record deal, but it turns out it was only to ask her for a song for Kira. Later in the episode, after Ally performs Finally Me, Jimmy offers Ally a record deal, but Trish declines for her, as Ally already has many other offers. Also, in the same episode, Jimmy fires Austin for accidentally recording over Kira's track but rehires him when he finds out it was a mistake.
In the Season 3 finale, Relationships & Red Carpets, Jimmy fired Austin from Starr Records, after Austin chose Ally over his career. In Karaoke & Kalamity, Jimmy decided to hire Austin back, but since Austin was performing at Club-a-Dub-Dub as Flermy, Jimmy changed his mind. However, in the following episode Mini-Me's & Muffin Baskets, Jimmy signs Ridley, The A&A Music Factory's newest student, and Jimmy decides to take Austin back.
Artists
Current
Albums
Staff
Current
Gallery