The Helen Show

'

Host

Helen

First Appearance

"Last Appearance"
The Helen Show is a fictional talk host television show that Austin performed on twice after his video went viral on the internet. It is a parody of the Ellen Show, which is hosted by Ellen DeGeneres of whom Helen is a parody of.
About
The Helen Show is a talk host television show, in which a woman named Helen interviews people and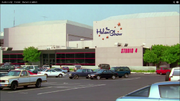 entertains an audience by dancing. Helen acts very quirky and is a fun-loving person just like Ellen Degeneres on The Ellen Show. The Helen Show has appeared once so far once in the episode [Rockers & Writers]. Austin performed on her show twice.
Appearances
Trivia