"
Guess who got a job at...?
"

— Trish's catchphrase
Patricia Maria "Trish" De la Rosa is a 17-year-old girl, a fashionista who becomes Austin Moon's manager and friend. She has also been Ally's best friend since kindergarten. She's known to wear a lot of crazy uniforms, because she goes through lots of jobs and gets fired very fast. She tends to get annoyed with Dez often; they are currently frenemies. Trish is the type of person who loves having a loud outfit. She can be a bit bossy and lazy, but always means well and looks out for those close to her. She is a part of Team Austin and manages him and his career well. Trish can be a really selfish person, but other than that she's a great friend. Her jobs are known to frequently change or she would get fired due to lack of discipline at work; however she takes her job as being Austin's manager very seriously.
She is portrayed by Raini Rodriguez.
Personality
Trish is portrayed as loud, lazy, obnoxious, fiery and a bit selfish. She's extremely loyal to her friends and shows deep compassion for them in their time of need. Trish is always there to keep them on the right track and not let their delusions get the better of them, whether it be Austin's immaturity, Ally's dreamful nature or Dez's eccentricities.
She's shown to dislike labor of any kind and is often seen to only take initiative in things she truly cares for, as in fashion, managing tactics and her friends or family. She's also a bit self-centered and loves the spotlight when it's on her, though for the most part she's perfectly fine in the sidelines. Her temper is also shown to be fiery and everyone knows that.
Appearance
Trish is shown to be a short, plump teenage girl with long, curly raven hair, dark brown eyes and light olive skin.
Her fashion style is bold and daring, with her trademark animal print fabrics and bright colors. She usually wears colorful skinny jeans with a flowing blouse, often paired with a blazer or jacket and flats for shoes; very rarely does she ever wear heels.
A signature accessory she's grown to have is head pieces that she seems to attain with every job she goes through.
Character History
Trish
was hired to work at Cupcake City for a short time. The employees get all the reject cupcakes, so Trish gave
Ally
the one she dropped on the floor. She got fired from this job because being a horrible-known employee grounds for termination.
Trish
was hired and then fired from the Magic Store for less than two days. She would often misuse her equipment, like using the magic shock finger she got to shock people and using a smoke bombs to sneak past the security guard at Miami 3 Studios (which is outside the mall of Miami) to get past her because they wanted to tell the world that Austin stole
Ally
's song on the Helen Show. She got fired from this job for using a smoke bomb outside the magic store.
Trish
was the first person to notify
Ally
on Austin's new video. Trish tries to convince
Ally
to tell the world that she wrote the song, "
Double Take
" that
Austin
had sung in his music video, and is later shown helping
Ally
to sneak onto the set of
The Helen Show
.
Trish
was hired at the Pet Store but was later fired for losing a possibly poisonous snake in
Sonic Boom
. Trish was hired at a mug store, but her job quickly ended when they were preparing to go on the Helen Show. Trish says, "It was so worth quitting my job at the mug store to come here." She quits her job at the mug store to work as Austin's manager.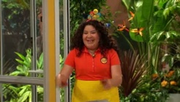 Trish was hired at the Yo-Yo Cart. She worked there for a short time. She got the jobs by convincing the manager she was a yo-yo champion from the island of "Wu." They eventually found out about her lie and she was fired. Trish got a job at the dry cleaners, but after messing up orders and not showing up work very much, she got fired. At the Dry Cleaners, she takes a jacket and it gets dumped in caramel, then she ends up shrinking and turning it pink. Austin takes the blame for her mistake, but does not get hit by Face Puncher. She helps Austin make a video.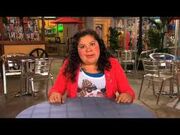 Trish
earned a job at the Makeup Kiosk. She thought the free samples were to take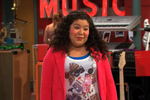 home and keep. Eventually she got fired for stealing the free samples.
Trish
tries to help
Ally
find her book. It is revealed that she once worked at the Lost and Found, yet only worries
Ally
more when she says, "Man, I hated this job. All those desperate people looking for stuff they'll never see for the rest of their life." It is Unknown how long she worked there.
Trish
wants
Ally
to get revenge on
Austin
for reading
Ally
's diary, which she forced out of
Dez
by eating his gingerbread man.
Trish
then helps
Ally
plot revenge against
Austin
.
Trish was hired at Cheese Out Of My League. The suit she has to wear is made out of actual cheese, including her underwear. She finds out that she and Dez have a lot more in common then they think. They become friends for a short while. When working at T-Shirt World, she gets a shirt with a picture of Dez on it and Dez got a shirt that was discounted for being Trish's friend. She got fired for possibly giving someone a discount without the boss's permission.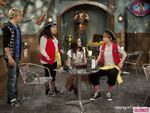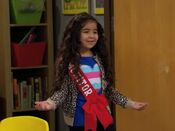 Trish was hired at Pirate Frank's Fish Fry. Dez actually worked this job with her, despite her displeasure, but he fried everything but fish. They planned to get fired at this job, so they fried everything in the restaurant but fish. She finds Miami H8ter Girl's blogs of Austin hilarious, but she does attempt to try to catch her, but ends up falling asleep like the rest of Team Austin. It is revealed that Trish's first job was the hall monitor in kindergarten. But when Trish made profit by charging people going to the bathroom by paying her, she was fired.
Trish was hired at Megaphone World. She first walked in there speaking in the megaphone and tells Austin and them that she got "Shiny Money" to perform with Austin by using the siren on the megaphone at his house till he saw Austin's video. Then Dez said he hated that sound and she kept making it to annoy him. She told her boss she quit because she wanted to get a job at the Dress Hut so she could get a nice dress for the Miami Music Awards but her boss told her she was already fired. She tries to get
Austin
to take her to the national Miami Internet Music Awards by serving him french fries with chocolate frosting on them. She,
Ally
, and
Dez
sneak into the Awards Ceremony as background dancers. She did not catch
Shiny Money
when he jumped off a crate.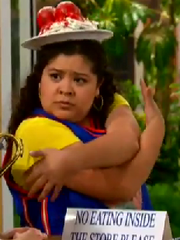 Trish's job was put in jeopardy when Austin is approached by hotshot manager Demonica Dixon, who wants to sign him, promising to take him to the top of his music career. She was fired temporarily as Austin's Manager when Demonica Dixon had her assistant pretend to be Trish and move Austin's time slot so he would miss it. However, after it was revealed that Demonica was only trying to make Austin lose his friends, Austin fired her and Trish became Austin's manager once more. She and the rest of Team Austin help get revenge on Demonica. Trish worked in Meatballas, as Statue Guy's Manager and It's a Racket, but was fired from all three jobs.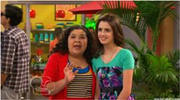 Trish has her quinceañera for her 15th birthday. She invited all the people in the
Mall of Miami
to her quinceañera so they bring her nice gifts. Trish invites Dallas to the party so Ally can dance with him, but Ally tells her that she can't dance. Trish enters her quinceañera in a pink and zebra striped dress. During the quinceañera, Trish's full name, Patricia Maria De La Rosa, is revealed. We also learn about and meet her brother,
JJ De la Rosa
. He performs a magic trick on her, cutting her in half, but he is unable to put her back together again.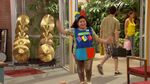 Trish was hired at a greeting card store, Pick a Card. Evidently a greeting card store that literally has greeting cards for every occasion. She got fired for disorganizing the cards. When Austin plays Ally's song in the radio, Miami Mack wants Ally to perform live on the radio. However, due to Ally's stage fright, Trish then agrees to lip sing and pretend to be Ally. At the end of the episode, Miami Mack comes in and shows the gang a magazine with Austin and Trish's pictures, although they still think that Trish is Ally.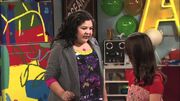 Trish mostly hangs out with Ally in this episode; first, she snaps Ally out of her trance (staring at Dallas). When she is turned down by Lester and Ally to work at Sonic Boom due to her lack of a work ethic, she protests that she can keep a job for 3 days, and she ends up working at the Cell Phone Accessory Cart- or, Dallas's old job. She ends up enjoying her new job at the Accessory Cart because she gets to be on the phone all day, and she's good at bejeweling. Later on, she teaches Ally several different firing methods. At the end, Trish intended to quit her job after 3 days, but she ended up only working there for 2 days.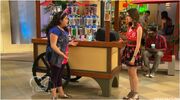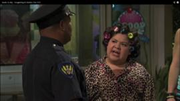 Trish is hired at Scoop, There It Is. Scoop, There It Is, is an ice cream parlor at the
Mall of Miami
. It includes a vending cart, which Trish brought to the beach under the guise of trying to sell it to other beach goers, when in reality she was simply trying to get a suntan with her friends. She, Ally, and Austin get stuck inside the shop's freezer. Trish was fired for leaving the shop unlocked, napping in the freezer, charging customers for free samples, scooping ice cream with her hand, scooping ice cream with somebody else's hand, and other violations.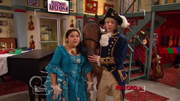 Trish worked as a waitress for the Miss Suzy, who is also, her old 3rd grade teacher, at Suzy's Soups. It is shown that Miss Suzy actually has to sing the instructions for her. It is unknown if she was fired, but may have been fired off screen, as she would continue her routine of getting new jobs and getting fired. On one occasion, Ally was filling in for Trish.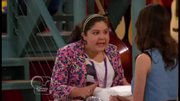 Trish worked in The Yarn Barn and spent a lot of her time knitting scarves and blankets. In fact she made one blanket that was so soft that she couldn't help but fall asleep the moment she lies on it. Austin uses this blanket to muffle the piano keys as a trap to catch the Alphabet Bandit, but end up falling asleep due to the softness of the blanket. She offered to help donate something from the Yarn Barn to help catch the burglar, but after hearing groans from the rest of the mall workers, she added she would probably be fired soon and would be working at a cooler shop. When attempting to catch the burglar, she and Ally get trapped inside of a giant bird cage. After the burglar is caught, Trish gives Austin, Ally, and Dez small and inexpensive items from the rewards, and takes the larger and more expensive rewards, such as a flat-screen TV, a laptop, and a trip to Hawaii.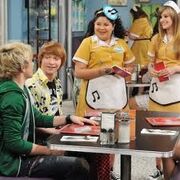 Trish worked as a waitress for the Melody Diner, having Mindy as her bossy manager. She doesn't like how she is forced to sing and dance during her job. She also gets a waiter spot for Austin since he wants to get closer to a girl names Cassidy. Trish sings her disgust over what she sees as Mindy's attempts to take advantage of Dez, but suddenly is even more repulsed that she not only called him her friend, but used the same pet name for him. She was fired because she refused to get more chicken pot pie for Dez, and for defending him.
Trish was hired to work at the Sausage Cart. For this job she was dressed up as an actual sausage. While wearing the costume, she tried to talk to Jimmy Starr as if they actually knew each other in order to try to land Austin a record deal. Later on, she as well as the rest of Team Austin and Austin's parents accompanied Austin to the doctor when he strained his vocal cords. When Austin asked her to talk to the girl that he was eyeing, she misinterpreted his intentions and asked the girl to stop bothering her friend.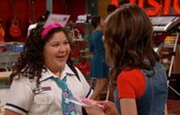 Trish worked at the Post Office, Mailboxes and So Forth, for 2 weeks, which is the second longest time she has kept a job (She has been Austin's manager the longest). She got fired for looking through everyone's mail. Trish becomes extremely upset when she realizes the music school she, Austin, and Dez applied her for was in New York. After comforting words from Dez, she was able to support Ally. She and the rest of Team Austin attend Austin's album release.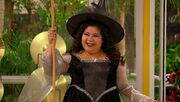 Trish was hired at the Halloweenatorium, where she sold costumes for Halloween. She does not give people the correct costumes and does not do what her boss assigns her to do. Her uniform for the Halloweenatorium is a Halloween outfit. She goes to Jimmy Starr's party as a cave woman. She tricks Dez into thinking the room is haunted, but results in knocking out Taylor Swift.
In this episode, Trish dates Trent but later in the episode, it is revealed that Trent only dated Trish to get the gig as Austin's background dancer and that he is cheating on her with Becky. They later break up in the episode.
Trish was hired to be a lifeguard, despite that she can't swim. She also gets Austin an interview to be on the cover of Cheetah Beat but it her plan backfires when
Megan Simms
comes to take pictures of the fun yet dangerous stuff Trish filled out for Austin.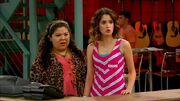 She helps hide Austin from his parents. She does this by telling Mike Moon and Mimi Moon that Lester Dawson thinks they sell lousy mattresses, and telling Lester that Mike and Mimi think he sells lousy instruments.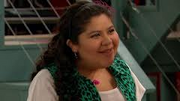 When Trent apologizes and asks for forgiveness, she rejects his offer. She helps get revenge on Trent along with Austin, Ally and Dez.
Trish tells Austin that she had booked him a place to perform on New Years at Times Square, when she accidentally booked him a place at Tim's Square Pizza. She tries to get Dez to tell Austin the new news, but Ally convinces her to actually tell Austin the news instead of relying on someone else. She, along with the help of Dez, manages to actually book Austin a performance on New Years, and to travel there, they go on a plane that's business is run by her aunt, and she works as an air hostess. She soon quits the hostess job. She spots where Dez keeps his wallet and says the location out loud in the taxi. Jessie Prescott makes a good first impression on her when Jessie flies them up to the specific performing location.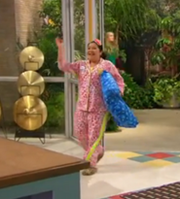 Trish first appears when she tells Ally about how she loves her new job at Puppy's Pillows, saying that it's a dream come true- literally, seeing as she gets paid to sleep all day. Her actual happiness at a job is short-lived as Dez and Austin plead with Trish to quit her dream job to work at Phil's Fun Town so that Austin can film his first big budget music video. After much pleading, Trish grudgingly gives in and sadly agrees. She then later appears telling people that the Ferris Wheel ride is closed for the music video shooting, and a little girl (Sydney or Lollipop Girl) sadly complains to Trish about how she's been waiting for a long time. Trish doesn't care, and Sydney tries to get the last laugh by pulling out the pout face, but Trish ends up causing the not-last-yet sadness by once more showing that she's unaffected by it.
After Dez asks her to stop the Ferris Wheel for the video, she accidentally rips the lever out, thus stranding Austin and Kira in a Ferris Wheel cart for an hour. After that, she then gets the hamster balls ready, and while doing so, Ally and Kira get stuck together in one of the balls, and once they get out, Ally declares that she's changed her mind; Kira should be fired. She's among the first, or at least not the last, to realize that Kira can't be fired because of her father. Later, she has to close the Tubs of Fun ride down for the video, and Sydney reappears, getting angry at Trish for "ruining her childhood memories."
At the end, Trish is telling the rest of Team Austin that she hopes they had a good time, seeing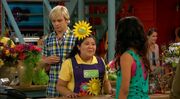 as she got fired. She then adds on that someone complained about her, and Sydney is back again, saying, "I wonder who?" before walking off leaving Trish flabbergasted.
Trish, in this episode, works at the Flower Shop. She walks in to see No Ordinary Day end up being the #1 Song of the Day. When Kira offers Team Austin wrestling tickets, she- along with Ally- are unenthusiastic about it. Later on, Trish delivers a lot of flowers to Sonic Boom and partially ends up ruining Austin's initial chance with Kira. After Ally tells Trish about her new crush on Austin, Trish tells a stranger about the crush before promising to safely keep the secret a secret. After somewhat criticizing Ally for not telling Austin about her crush on him, she is sympathetic towards Ally. At the end, she and Ally finish up as much of the leftover picnic food that they can, and they wonder where Dez is.
In this episode, Trish has many appearances. She and Dez share a sub-plot in which Dez feels lonely, and so she keeps him company. Trish gets slightly mad at Elliot for taking Ally away from her, but later on calls him hot. She implies that Austin may be jealous of Elliot. Trish gets blown off from Ally when they were supposed to have a Girl's Night. When Dez is still lonely, he offers to go with Trish to the spa. She initially declines his offer, but as soon as Dez offers to pay, she's more than happy to take Dez with her.
Later on, Trish sees a once-more lonely Dez, and offers to keep him company by asking him to help her clean the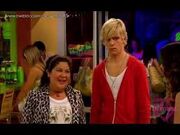 restaurant. Or, in her case, have Dez clean the place while she reads her magazines. Later on, Ally admits to Trish that she fears that Elliot will ask her out; Trish's advice is to tell Elliot that she's not interested. Trish is the employee that asks all the questions for "Trivia Night."
Trish and Ally later on realize together that Austin may like Ally back seeing as he got jealous over her. Trish then tells Ally to wait for Austin to come to her; she then makes a bird motion before admitting that she's spent too much time with Dez. At the end, Dez asks Trish to play with him, and she agrees to play with him.
In this episode, she is first seen chatting with Dez as they discuss how Austin & Ally should just start dating. She soon barges in with Dez during Austin and Ally's practice session, and joins in the metaphorical conversation. Ally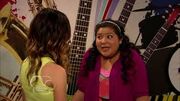 eventually asks to talk to her, where Trish then admits that she was really talking about Austin and her and not the song! She then says that Ally
should not
wait for Austin to come to her, and admits that her "no waiting on anyone else" unofficial rule was what hindered her from being a good waitress. Later on, it is revealed that she and
Penny
are quite close, and she reveals that she is currently working at the Kennel, scooping poop. When Penny gives her
The Wild Things
as a gift, she reveals that she does not think of the book as a true gift.
Later on, she reads the book and is so inspired by the book that she quits her current job earlier than she had expected. Trish and Dez must be hanging out a lot more since Ally reveals that her greatest fear is that Trish and Dez will become married and move in with Ally. When Ally runs off, Trish and Dez temporarily take over the book release party by "bringing the book to life"- or, Trish reading the book and Dez acting out what she reads. Her last appearance in the episode is when she, along with Dez, are shocked by Austin and Ally kissing.
After Ally walks off, Trish scolds Austin before going after Ally. The next day, Trish joins in the fairy tale joke that Ally and Penny somewhat inadvertently started, but it was at the wrong time. Trish agrees with Penny that Ally should think of last night as the night that she conquered her greatest fear, and then offers to manage Ally. Later on, she and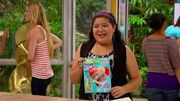 Ally meet up for a Team Ally meeting- just the 2 of them- before Trish reveals that she's scored Ally an interview for Cheetah Beat. Later on, she is holding up the issue of Cheetah Beat that has the main story of Kira and Austin, and ruins any chance Austin had of winning Ally over. She also creates some publicity photos for Ally as well as various "Ally" merchandise that's just Ally's bathroom items with Ally's name on it. She sits with Ally when Austin serenades Ally with
I Think About You
. At the end, she is holding up the new issue of Cheetah Beat that features the new, official couple of
Auslly
.
Trish is working at the antique shop that is home to the magical typewriter- well, that is, it
was
home to the typewriter until Trish successfully convinced
Dez
to buy it for $50. The main antagonist of the episode,
Chuck
, has a crush on her. She is the last one of the gang to be convinced that the typewriter is truly magical. She gets a money tree as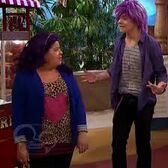 well as the antique shop and her own employee- her former boss, Mr. Gower- as a favor from Dez. Later on, after Chuck gains possession of the typewriter, Trish is affected in multiple ways. First of all, her hair turns purple. Her money tree also died. She also lost ownership of the antique shop, which meant that Mr. Gower was once more her boss. After walking into
Sonic Boom
, she swaps bodies with 
Ally
. Later on, Chuck made her fall in love with him.
She and Dez, in this episode, are the main focus of the episode's sub-plot. She is first seen when she is informing
Austin and Ally on how she managed to score them a deal that could possibly have their music in
Butch & Bitey
. When Dez enters, holding the
Zaliens 8
My Brains
movie trailer poster, she is excited with Austin and Dez. She then exclaims that she and Dez have decided to team up to try to win the Zaliens contest that, if won, will earn them an exclusive premiere of
Zaliens 8
. She compliments Dez for the first time in this scene, as is noted by Ally. For the majority of this episode, she is working on the video with Dez. She and Dez try to stop the Butch and Bitey dolls from exploding with goo, but are too late. At the very end, it is revealed that she and Dez won the contest.
Trish offers to take Ally to the Tranquility Spa, where she currently works, as she thinks that a day of relaxation will help Ally prepare for her interview with Miami Music the following day. Ally soon finds the day to be anything but relaxing, and Trish feels remorse at having let Ally down. She feels downright dreadful, however, after she ends up becoming eyebrow-less. She and Ally go to the Chili Cook-Off.
Trish accidentally books Ally into the Stray Kitties, thinking it was an audition for a record deal and solo career. She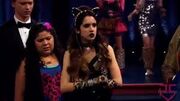 helps Ally get out of Val's 5-year contract with the Stray Kitties, along with some help from Dez.
Trish books Austin an interview with Jett Deely on "Video Countdown Live" as a part of "New Music Tuesday". She is also the troop leader of the Pioneer Rangers troop that JJ and Nelson are a part of, due to her mother forcing her to become the troop leader. She helps the rangers earn their badges by having them do her chores and whatnot; she even lets Dez become an honorary Pioneer Ranger so that he can earn the merit badges that he never earned.
In this episode, Trish sends
Ally's
song,
I'm Finally Me
, to
Jimmy
and gets a reply back saying that he'd love to talk to Ally. Due to this, Trish fills in the application for
Manager of the Year
and asks Ally to send it in. Trish accompanies Ally to the meeting, where they both learn that
Kira
is the newest recording artist, and that she wants to buy Ally's song. Jimmy offers a lot of money for the song-this Trish learns by finally looking at the paper- and while Trish tries to get Ally to make the deal to get the money, she declines. Later, she, along with
Austin
and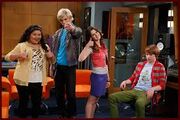 Dez
, take down the party that they had prepared. She and Austin cheer Ally up. She, Austin and Ally play with the recording studio the next day. While the other three of
Team Austin
go to the yoga studio to get Kira to sing her song,
Elevator Doors
, again, she is assigned the job of making sure that Jimmy doesn't enter the studio again. She doesn't do her job, though; she was at the basketball court. When Austin gets released from Starr Records, she tries to convince him to take Austin back. Her plan doesn't work, but Austin does end up getting signed back with Jimmy Starr.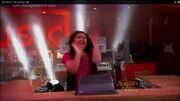 In this episode, Trish doubts Ally's dancing skills and warns her that making a dance video will ruin Ally's chances in the Final Five. In the end, despite her doubts, Trish decides to support Ally, and participates in "The Ally Way" dance video.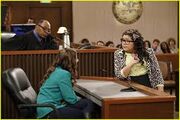 In this episode, she and Dez are shown to be massive fans of the TV show Crime & Judgment; they watch all 182 episodes in 4 days. When Austin gets sued by Val, Trish uses her skills learned from the show to try to defend Austin. Meanwhile, she and Dez also try to figure out who Austin wrote his song, Steal Your Heart, about.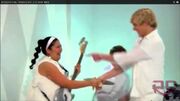 In this episode, she appears in Austin's dream and is part of the plot to bring the present to the future. Her job in Austin's dream is as a worker at the Future Mart. Also, she is taught how to play bass and performs the song, Timeless, with Austin, Ally, and Dez in the dream.
In this episode, she tries to show as much spirit towards her school,
Marino High School
, since she heard that the person with the most spirit during Spirit Week gets one thousand dollars. She signs up to be an assistant to the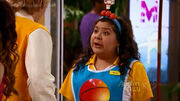 basketball team and also organizes an 
Austin Moon
concert at the school. She ends up winning and getting the money. The catch is that it is in Manatee Dollars, which can be used on Marino High merchandise, as opposed to regular money. She also keeps saying "Go Mustangs!" when the school's mascot is the Manatees. She gets a job as the dog walker at the beginning of the episode, and the dogs are not on their leashes when she walks in Sonic Boom.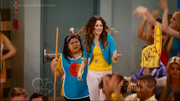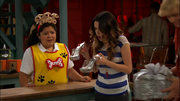 In this episode, she has her own kiosk. She is looking for someone to work there and she finds Bonnie. Bonnie is a lot like Trish personality wise, so not much work is done. She ends up firing Bonnie, but says they can be friends.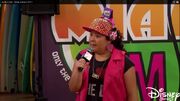 As shown in this episode, Trish gets a job at FM109 and talks about the contest. Later on, she goes to Didi's birthday party with the rest of Team Austin. When Dez faints, she shouts "Dez!". She helps in on Dez's plan for 20 bucks. When the prank happens, she is giggling. Trish soon helps in Austin's plan.
Trish and Dez are making signs to get on TV on America's Top Talent. The first 2 times their plans don't work. The first being creating a big sign, and the other plan to use balloons to support Austin & Ally. By the end, Trish and Dez overtake Val and Paul Jean's seats in order to be seen on TV.
Trish is featured in the rockumentary several times and helps Dez with directing. She is upset when Austin and Ally fight. So she asks Dez and they plan them to sing You Can Come to Me. After they kiss, Trish asks them what it was about.
In this episode, Trish manages to help Austin get his first national tour, and one that seats 10,000 people at that.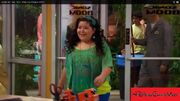 She then is also able to get an interview for Ally with Ronnie Ramone with Ramone Records, though she messes up the location of the meeting and is fired as Ally's manager. So, Austin lets Trish takes credit for having Ally perform as the opening act in Austin's tour, and Ally decides to rehire Trish as her manager again. Eventually though, she finds out the truth and ends up firing Trish again. Though, Ally rehires Trish again after she was able to get Ronnie Ramone to come to the concert. The two then become excited when Ally is offered the record deal. But, Trish advises to her friend to accept the offer opposed to going on tour with Austin. She'll obviously miss her, but knows that she should be a manager for Ally, starts doing so.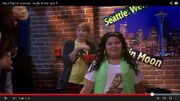 Still on tour with Dez and Austin, Trish helps encourage Ally into joining them on tour. When she and Dez meet Ally though, Austin is missing because of him getting back on the wrong bus at night. But eventually, the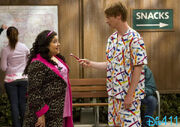 foursome are back together. Ally ends up staying on tour which satisfies Trish as well as Dez and Austin.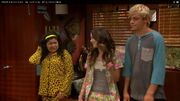 When imagining what their lives would be like without Austin around, Trish ends up being signed to Starr Records for her talent of singing, but becomes the diva popstar, which makes her lose her fame, her record deal, and her best friend, Ally. But, during all this, Dez is her personal assistant and is the only one she has left. She admits that he's more than just a friend, and the two kiss. After that, Ally, Trish, and Dez stop the imagination sequence in conclusion that their lives would've been terrible for if Austin was not around.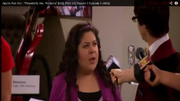 After being awakened by another one of Dez's attempts to be helpful, Trish shows that she bought hats at every stop to remember the tour and bought tea cups for Ally. After Austin's ceremony, Ally notices that Trish kept checking her phone to which Trish responds that she's working on something big for Austin's career. When visiting the Smithsonian Museum, Austin ends up with the silver shoes from the Wizard of Oz stuck on his feet. Austin says that they should just confess, but Trish doesn't agree because Austin doesn't need that kind of bad publicity. When they go back to the museum to confess and see all the cameras, Trish defends Austin by saying how he is a Teen Role Model but she almost gives him up when she realizes there is a reward for who ever catches the thief. Back in the stockroom, after Ally gives her idea of mailing the shoes back anonymously, Trish's reveals that Austin is going to be playing for the President of the United States. When Austin brings her attention back to the shoes, Trish says that he can't cancel on the President but then Ally gives an idea of hiding them. During the concert when Austin admits what happened and the President gives him pardon. Trish tries to gain pardon too, because she scratched his limousine.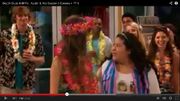 Upon returning from tour, Trish becomes jealous of Ally and Kira's developing friendship, in which they have a lot in common. To make matters worse, Kira starts to take over as Ally's manager, booking her a performance at
Shredder's Beach Club
. Though, after Ally and Trish go through a conflict involving a roasted pig spinning out of control, they eventually do make up. Ally gets to sing 
Redial
 at Shredder's, which was written for Trish.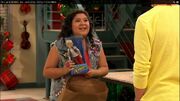 In an attempt to gain a promotion as Party Planner for her job at Shredder's, Trish plans a Christmas party for the kids at the orphanage. In order to get much of the work done, Trish manipulates Chuck and Dez to do nearly everything for her when they duke out in their rivalry. Meanwhile, her and the rest of the gang anticipate the coming of Christmas, especially because of the news of the Austin Moon Doll that every kid happens to want. Though, the dolls turn out to have major flaws to which the four try to fix, but are unable to stop. But, by the end, thanks to a Christmas miracle of delivered fixed dolls, everyone's Christmas turn out well, as Trish does get the promotion. The only problem to that is there is no raise, only more working hours.
Trish, a member of Marino High's Glee Club faces a conflict with the rest of the group concerning the type of "style" to perform as in order to win the regionals competition. Both Austin and Ally have their own ways of wanting to settle things, but instead of compromise, a rivalry breaks out, having Trish and a few others join Austin's side while the rest plus Dez side with Ally. But, during an argument between the two, they both get kicked out of the club, leaving Trish with the rest of the group to compete. Eventually, after they make up, Trish gets Coach Simmons to let Austin and Ally back on the team, and the group wins the competition after performing the Austin & Ally Glee Club Mash Up.
Relationships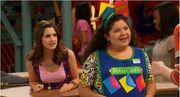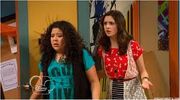 Best Friend Forever/Practically Sister
Ally and Trish have been friends since they were in kindergarten. Ally is able to tolerate Trish's character. They seem to hang out a lot. Trish is Austin's manager, and Ally is Austin's songwriter. And in Partners & Parachutes Trish becomes Ally's manager. They're technically sisters, because they know so much of each other and have known each other since kindergarten. In Freaky Friday & Fiction, Trish gets trapped in Ally's body.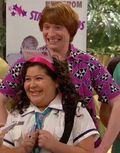 Friend 
Dez and Trish are friends, although they fight a lot. They have an insulting thing in almost every episode. In the episode Backups and Breakups, Ally thinks that they are dating because they are whispering and hugging, but Austin disagrees because it's too weird. They find out that Trish had a secret boyfriend and Dez loves romance movies. Both are freaked out at the thought of dating the other one. Trish thinks Dez is childish and stupid, and Dez thinks that Trish is mean. But, as season 2 came, Trish has been a little nicer to Dez.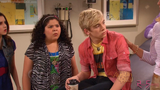 Best Friends/ Manager/Client
Trish is Austin's manager for his music career. They hang out with each other a lot. They have a lot in common with each other.
Roger
Unknown Relationship/Ex-boyfriend
Roger asked out Trish after he was hired to be Austin's backup dancer in Backups & Breakups. It is unknown about their relationship now. Trent dated Trish so he could become Austin's back-up-dancer, but when Ally finds out he has a girlfriend and tells Team Austin, Trent challenged him to a dance-off. He lost and very soon after, Trish had a new boyfriend (Roger, even though it's unknown if they are still together, but it's likely they broke up.)
Ex-Boyfriend/Enemy
Trent dated Trish so he could become Austin's back-up-dancer, but when Ally finds out he has a girlfriend and tells Team Austin, Trent challenged him to a dance-off and he lost. They break up at the end of the episode.
Crushed on by /Enemy
Throughout the events of Freaky Friends & Fan Fiction, Chuck hit on Trish and tried to win her over- even at the end when the story was officially over.
Crush/Boyfriend
In Cupids & Cuties, it is revealed that Trish met Jace on Austin's tour in Albuquerque. In this episode, Jace comes to visit Trish. They go on a date, which ends in disaster. The tension between them is healed by the end of the episode though.
Family
Mrs. De La Rosa
Mother
Not much is known about the mother-daughter relationship, but Trish's mom remembers several jobs Trish has had before.
Mr. De La Rosa
Father
Not much known is about the father-daughter relationship, but they danced together at Trish's quinceañera. 
Brother
Trish and JJ are siblings. Trish lets JJ do his magic act at her quinceañera even though he could barely do a simple trick. Ally said that Trish really doesn't like her little brother, and they seem to make fun of each other often, but they still love each other a lot.
Jobs
Trivia
Her full name was revealed to be Patricia Maria De la Rosa in Club Owners & Quinceaneras.
Trish is an Auslly shipper.
It's possible she doesn't like mushrooms according to Zaliens & Cloud Watchers.
Even though she is seen to be horrible at almost all of her jobs, she is a good manager.
She said that being Austin's manager was the only job she likes, as heard in Managers & Meatballs.
She becomes Ally's manager in the episode Partners & Parachutes.
Her favorite pizza topping is pepperoni.
She constantly gets hired and fired. She usually can't keep a job for more than one day.
She has a Tweeter account.
She likes gingerbread.
Trish can lip sync perfectly to what anyone says.
She is a fan of the Zaliens series, but her favorite Zalien movie out of the 14 Zaliens movies is Zaliens 3.
She is good at bedazzling things.
She is really good at getting revenge. Ally considers her the best. Trish herself once said, "If there was a revenge store I'd never get fired."
She can't make lattes, as seen in Songwriting & Starfish.
She can knit, as shown in Burglaries & Boobytraps.
She is the youngest of the four because everyone was already fifteen when Trish turned fifteen in the episode Club Owners & Quinceaneras. She is also the shortest.
She and Dez shared their first hug in Everglades & Ally-Gators.
She was/is only good at three jobs - Cell Phone Accessory Cart, Puffy's Pillows, and Austin's Manager.
Trish was on a magazine cover (with Austin), though she was under the disguise Ally Dawson, due to pretending to be Ally in one of Austin's interviews (Deejays & Demos).
From one to a billion, her favorite number is two.
She and Dez have the same favorite number.
It is said that Trish can't spell Jiu-Jitsu, so she told Cheetah Beat that Austin can do karate.
She can't swim as mentioned in Magazines & Made-Up Stuff.
Trish wrote a one-woman play called "You're Hired, You're Fired: The Trish De la Rosa Story" and performed it at Ally's fundraiser in Parents & Punishments.
Being Austin's manager and her job at the Post Office are the only jobs she kept longer than three days.
She was once fired from being Austin's manager.
Two of her favorite places are the Pizza Parlor and the Arcade.
Trish admitted being Austin's manager was the best job she had ever had shown in Managers & Meatballs.
She has been going through jobs since she was in kindergarten.
She and Ally were both born in the same month (February).
She likes to hang around rich people so she can get cool things.
Of all her jobs, she takes being Austin's manager seriously.
Her two dream jobs seem to be getting revenge (Secrets & Songbooks) and getting paid for sleeping all day. (Ferris Wheels & Funky Breath)
She thinks memories are "overrated." (Ferris Wheels & Funky Breath)
In Rockers & Writers, it's shown that Trish owns an iPhone, but in Bloggers & Butterflies, Dez fries her phone, but this time, it's a flip phone, not an iPhone.
Trish once dated Trent, but broke up with him.
After Austin hired Roger to be his backup dancer, Trish began to date him.
She is always annoyed by Dez.
She worked at a Flower Store in Girlfriends and Girl Friends.
She got Ally an Austin "Dart Board" when Ally texted her about Austin choosing Kira in Chapters & Choices.
She is Ally's manager now.
She did not have a new job in Partners & Parachutes.
She likes pizza, as shown in Zaliens & Cloud Watchers, Soups & Stars, and Girlfriends & Girl Friends.
She does not like mushrooms on pizza.
She had a money tree in Freaky Friday & Fan Fiction.
It was revealed in an exit interview from the Make-Up Kiosk that she doesn't know how to put on makeup.
She wanted Ally to be with Austin.
She is known for saying "Guess who got a job at _________ "
Trish started dating Roger in Backups & Breakups. It is unknown if they're still dating.
She mentioned in Tracks & Troubles that she wants her two husbands to be Ryan Gosling and Taylor Lautner; this may imply that she has crushes on these two celebrities.
Ally says that Trish hates the outdoors in Boy Songs & Badges.
Trish has many nicknames, but most of them are given to her by Chuck. 
Trish can play the Bass Guitar as shown from the picture from Future Sounds & Festival Songs.
Trish was Austin's lawyer in Tunes & Trials.
She would do anything for money.
She got fired by Ally twice in Fresh Starts & Farewells, but got hired again.
She is shown to be a good singer in Real Life & Reel Life, when she sang in Lost His Voice Song.
In What If's & Where's Austin, Trish becomes a pop star and gets signed to Starr Records although it's imaginary.
Ally's mother, Penny, named a gorilla after her.
Apart from being Austin and Ally's manager, the only other job that Trish has managed to keep for more than one episode is working at shredders Beach Club.
She mentioned in Austin & Alias that she's not a good listener.
Even though she and Dez fight sometimes they are still friends and really like each other sometimes.
Quotes
Guess who got a job at...
When this movie's finished, we need to work on your time management.
Looks like our planned work, they don't seem mad at each other anymore.
Sorry to interrupt your moment, but what the heck was that kiss about?
Kissing Dez wasn't the worst thing in the world, losing my best friend was.
Gallery
| | |
| --- | --- |
| | To view the Trish De la Rosa gallery, click here. |