Trish
was hired to work at Cupcake City for a short time. The employees get all the reject cupcakes, so Trish gave
Ally
the one she dropped on the floor. She got fired from this job because being a horrible-known employee grounds for termination.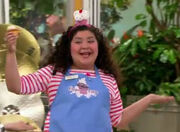 Trish
was hired and then fired from the Magic Store for less than two days. She would often misuse her equipment, like using the magic shock finger she got to shock people and using a smoke bombs to sneak past the security guard at Miami 3 Studios (which is outside the mall of Miami) to get past her because they wanted to tell the world that Austin stole
Ally
's song on the Helen Show. She got fired from this job for using a smoke bomb outside the magic store.
Trish
was the first person to notify
Ally
on Austin's new video. Trish tries to convince
Ally
to tell the world that she wrote the song, "
Double Take
" that
Austin
had sung in his music video, and is later shown helping
Ally
to sneak onto the set of
The Helen Show
.
Trish
was hired at the Pet Store but was later fired for losing a possibly poisonous snake in
Sonic Boom
. Trish was hired at a mug store, but her job quickly ended when they were preparing to go on the Helen Show. Trish says, "It was so worth quitting my job at the mug store to come here." She quits her job at the mug store to work as Austin's manager.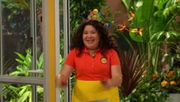 Trish was hired at the Yo-Yo Cart. She worked there for a short time. She got the jobs by convincing the manager she was a yo-yo champion from the island of "Wu." They eventually found out about her lie and she was fired. Trish got a job at the dry cleaners, but after messing up orders and not showing up work very much, she got fired. At the Dry Cleaners, she takes a jacket and it gets dumped in caramel, then she ends up shrinking and turning it pink. Austin takes the blame for her mistake, but does not get hit by Face Puncher. She helps Austin make a video.
Trish
earned a job at the Makeup Kiosk. She thought the free samples were to take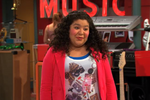 home and keep. Eventually she got fired for stealing the free samples.
Trish
tries to help
Ally
find her book. It is revealed that she once worked at the Lost and Found, yet only worries
Ally
more when she says, "Man, I hated this job. All those desperate people looking for stuff they'll never see for the rest of their life." It is Unknown how long she worked there.
Trish
wants
Ally
to get revenge on
Austin
for reading
Ally
's diary, which she forced out of
Dez
by eating his gingerbread man.
Trish
then helps
Ally
plot revenge against
Austin
.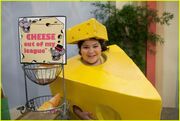 Trish was hired at Cheese Out Of My League. The suit she has to wear is made out of actual cheese, including her underwear. She finds out that she and Dez have a lot more in common then they think. They become friends for a short while. When working at T-Shirt World, she gets a shirt with a picture of Dez on it and Dez got a shirt that was discounted for being Trish's friend. She got fired for possibly giving someone a discount without the boss's permission.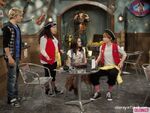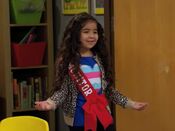 Trish was hired at Pirate Frank's Fish Fry. Dez actually worked this job with her, despite her displeasure, but he fried everything but fish. They planned to get fired at this job, so they fried everything in the restaurant but fish. She finds Miami H8ter Girl's blogs of Austin hilarious, but she does attempt to try to catch her, but ends up falling asleep like the rest of Team Austin. It is revealed that Trish's first job was the hall monitor in kindergarten. But when Trish made profit by charging people going to the bathroom by paying her, she was fired.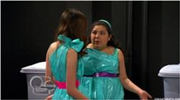 Trish was hired at Megaphone World. She first walked in there speaking in the megaphone and tells
Austin
and them that she got "Shiny Money" to perform with
Austin
by using the siren on the megaphone at his house till he saw Austin's video. Then
Dez
said he hated that sound and she kept making it to annoy him. She told her boss she quit because she wanted to get a job at the Dress Hut so she could get a nice dress for the Miami Music Awards but her boss told her she was already fired. She tries to get
Austin
to take her to the national Miami Internet Music Awards by serving him french fries with chocolate frosting on them. She,
Ally
, and
Dez
sneak into the Awards Ceremony as background dancers. She did not catch
Shiny Money
when he jumped off a crate.
Trish's job was put in jeopardy when Austin is approached by hotshot manager Demonica Dixon, who wants to sign him, promising to take him to the top of his music career. She was fired temporarily as Austin's Manager when Demonica Dixon had her assistant pretend to be Trish and move Austin's time slot so he would miss it. However, after it was revealed that Demonica was only trying to make Austin lose his friends, Austin fired her and Trish became Austin's manager once more. She and the rest of Team Austin help get revenge on Demonica. Trish worked in Meatballs, as Statue Guy's Manager and It's a Racket, but was fired from all three jobs.
Trish has her quinceañera for her 15th birthday. She invited all the people in the
Mall of Miami
to her quinceañera so they bring her nice gifts. Trish invites Dallas to the party so Ally can dance with him, but Ally tells her that she can't dance. Trish enters her quinceañera in a pink and zebra striped dress. During the quinceañera, Trish's full name, Patricia Maria De La Rosa, is revealed. We also learn about and meet her brother,
JJ De la Rosa
. He performs a magic trick on her, cutting her in half, but he is unable to put her back together again.
Trish was hired at a greeting card store, Pick a Card. Evidently a greeting card store that literally has greeting cards for every occasion. She got fired for disorganizing the cards. When Austin plays Ally's song in the radio, Miami Mack wants Ally to perform live on the radio. However, due to Ally's stage fright, Trish then agrees to lip sing and pretend to be Ally. At the end of the episode, Miami Mack comes in and shows the gang a magazine with Austin and Trish's pictures, although they still think that Trish is Ally.
Trish mostly hangs out with Ally in this episode; first, she snaps Ally out of her trance (staring at Dallas). When she is turned down by Lester and Ally to work at Sonic Boom due to her lack of a work ethic, she protests that she can keep a job for 3 days, and she ends up working at the Cell Phone Accessory Cart- or, Dallas's old job. She ends up enjoying her new job at the Accessory Cart because she gets to be on the phone all day, and she's good at bejeweling. Later on, she teaches Ally several different firing methods. At the end, Trish intended to quit her job after 3 days, but she ended up only working there for 2 days.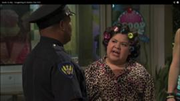 Trish is hired at Scoop, There It Is. Scoop, There It Is, is an ice cream parlor at the
Mall of Miami
. It includes a vending cart, which Trish brought to the beach under the guise of trying to sell it to other beach goers, when in reality she was simply trying to get a suntan with her friends. She, Ally, and Austin get stuck inside the shop's freezer. Trish was fired for leaving the shop unlocked, napping in the freezer, charging customers for free samples, scooping ice cream with her hand, scooping ice cream with somebody else's hand, and other violations.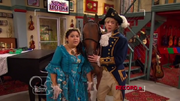 Trish worked as a waitress for the Miss Suzy, who is also, her old 3rd grade teacher, at Suzy's Soups. It is shown that Miss Suzy actually has to sing the instructions for her. It is unknown if she was fired, but may have been fired off screen, as she would continue her routine of getting new jobs and getting fired. On one occasion, Ally was filling in for Trish.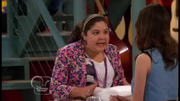 Trish worked in The Yarn Barn and spent a lot of her time knitting scarves and blankets. In fact she made one blanket that was so soft that she couldn't help but fall asleep the moment she lies on it. Austin uses this blanket to muffle the piano keys as a trap to catch the Alphabet Bandit, but end up falling asleep due to the softness of the blanket. She offered to help donate something from the Yarn Barn to help catch the burglar, but after hearing groans from the rest of the mall workers, she added she would probably be fired soon and would be working at a cooler shop. When attempting to catch the burglar, she and Ally get trapped inside of a giant bird cage. After the burglar is caught, Trish gives Austin, Ally, and Dez small and inexpensive items from the rewards, and takes the larger and more expensive rewards, such as a flat-screen TV, a laptop, and a trip to Hawaii.
The gang sleeps the night in the mall in order to wait in line early for getting a myTab, however Trish only claims she did. Throughout the day, the foursome trade places in between waiting for the opening of the store. While Ally is worried, Trish assures her that their spot in line will be fine with Austin and Dez. However, Trish is proved wrong after seeing Dez let people cut in front of him, meaning Ally has to hold the spot again. In the meantime, she has Austin watch over her bird, Owen, whom he loses. Trish is in on the search for him, and comes up with the idea of popping popcorn in the practice room to attract him to come back, except for the fact that the room is overflowing with popcorn by the time the whole gang comes up - having totally lost their spot in line additionally. Though, they do come up with a way to get people out of line by seeing Austin perform for free, allowing them to get the myTab in the end. In addition, Ally's bird starts to actually talk, also meaning that Trish, Austin, or Dez get away with having lost Owen.
In Dez's new movie, Claws: Dun Dun Dun, Trish is given the role of Girl #2 for the movie. The gang film the movie on the beach, the plot revolving around a lifeguard saving the people on the beach from a huge crab. While, Ally confronts Austin about his fear of umbrellas, Trish is cast a stunt double for a dangerous scene in which she falls off a cliff. In addition, by the end, Dez had been able to get the "real emotions" out of people, that including of angering Trish, and she attempts to attack him with the giant claw cracker.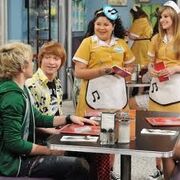 Trish worked as a waitress for the Melody Diner, having Mindy as her bossy manager. She doesn't like how she is forced to sing and dance during her job. She also gets a waiter spot for Austin since he wants to get closer to a girl names Cassidy. Trish sings her disgust over what she sees as Mindy's attempts to take advantage of Dez, but suddenly is even more repulsed that she not only called him her friend, but used the same pet name for him. She was fired because she refused to get more chicken pot pie for Dez, and for defending him.
While out on Shiny Money's houseboat in the Everglades with the rest of Team Austin, Trish is out with Dez exploring the surrounding area. They stumble upon a tiny alligator, which eventually follows them back to the houseboat, but also bringing back legendary alligator, Big Mama, too. This causes a terror among the group, but they are able to get away from the monstrosity by giving back Baby Gator to Big Mama. Near the end of the episode, Dez had been able to film some footage to create a movie trailer, which ends up starring Trish, particularly for having her poofy hair - due to the humid weather.
Trish was hired to work at the Sausage Cart. For this job she was dressed up as an actual sausage. While wearing the costume, she tried to talk to Jimmy Starr as if they actually knew each other in order to try to land Austin a record deal. Later on, she as well as the rest of Team Austin and Austin's parents accompanied Austin to the doctor when he strained his vocal cords. When Austin asked her to talk to the girl that he was eyeing, she misinterpreted his intentions and asked the girl to stop bothering her friend.
Trish worked at the Post Office, Mailboxes and So Forth, for 2 weeks, which is the second longest time she has kept a job (She has been Austin's manager the longest). She got fired for looking through everyone's mail. Trish becomes extremely upset when she realizes the music school she, Austin, and Dez applied her for was in New York. After comforting words from Dez, she was able to support Ally. She and the rest of Team Austin attend Austin's album release.