Hi everyone!
It's your admin Jessie1010 here! Can you believe it's nearly been one whole year since Austin & Ally wrapped up? This Tuesday, January 10th, marks the one-year anniversary of the finale. Despite the show ending a year ago, fans of the show have been as loyal as ever on social media! We're all so grateful for the show and love looking back on the good times it brought.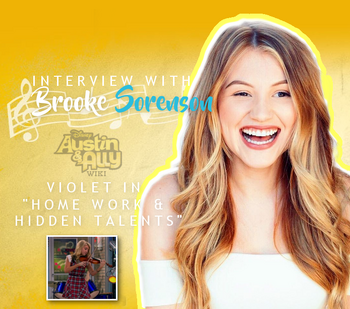 For fans of the show, the wiki put together a little surprise. We recently had the awesome opportunity to interview a guest star from the series...
Brooke Sorenson
! Brooke played
Violet Hayden
in "
Homework & Hidden Talents
," an episode in season 4, which also guest starred
Maddie Ziegler
! Brooke was ever so kind to agree to do this interview and she gave us some pretty great answers. Read the interview below!
US: What was it like working on the set of Austin & Ally?
BROOKE: The set was amazing and we had a live show at the end of the week. Not every episode does a live show, so it was super exciting. I started in theater in NC so having the reaction from a live audience was icing on the cake.

US: What was it like to play Violet? Was she an easy character to tap into?
BROOKE: I was given violin coaching (how to pretend play the violin) so that was interesting and different. Violet is a mean older sister and I often have been cast as the snobby or mean girl. Of course, I'm not in real life so it's fun to let your meanie out. Maddie was so sweet so it was hard to be mean to her.

US: What was it like working with the cast and Maddie Ziegler?
BROOKE: She was so down to earth and hung out in my dressing room a lot. Sophie, my little Maltese, was on set and her dog looks similar so she loved coming in to play with her. The cast of A&A is a dream. Laura is so fun and personable. She's the kind of girl you feel like you've known for years when you've only just met.

US: What are some funny stories from filming that you can share?
BROOKE: Well it was pretty interesting having Abby Lee there during the live taping. She was busy signing autographs and Melissa, Maddie's mom, was trying hard to get her attention so she would stop signing autographs and pay attention to Maddie. It was funny because I felt like I was on the set of Dance Moms.

US: Oh my gosh, that's so funny! Thank you so much, Brooke!
BROOKE: Yes it was! No problem!

Thanks again to Brooke Sorenson for doing this interview with us, we couldn't be more grateful!
It was great coming back to the wiki after all this time after the show ended. Very nostalgic. :') The wiki might try to do more fun surprises like this in the future to help keep our Austin & Ally spirits nourished!
See Brooke in a clip from "Homework & Hidden Talents" below!
Ad blocker interference detected!
Wikia is a free-to-use site that makes money from advertising. We have a modified experience for viewers using ad blockers

Wikia is not accessible if you've made further modifications. Remove the custom ad blocker rule(s) and the page will load as expected.