Ad blocker interference detected!
Wikia is a free-to-use site that makes money from advertising. We have a modified experience for viewers using ad blockers

Wikia is not accessible if you've made further modifications. Remove the custom ad blocker rule(s) and the page will load as expected.
"
A judge will be the judge of that!
"
Val Crawford

Information
Full Name

Valerie Crawford

Gender

Female

Resides in
Occupation

Manager of the Stray Kitties

Eye Color

Dark Brown

Hair Color

Light Brown

Affiliations

Stray Kitties

Production
First Episode
Last Episode
Portrayed By

Saidah Arrika Ekulona
Valerie "Val" Crawford is a character that appears in three episodes in Season 2 of Austin & Ally. She is the manager of the group Stray Kitties, and it is shown that she is willing to go to many lengths to try to get what she wants and is a bit impatient. Her first appearance was in the episode Solos & Stray Kitties; her second appearance was in Tunes & Trials and her third and possibly last appearance will be in Moon Week & Mentors. In these episodes, she was the antagonist.
Val is portrayed by Saidah Arrika Ekulona.
Appearances
In this episode, she made her first appearance, where she chose Ally to be a part of her musical group, The Stray Kitties. She cast Ally the part of Wicked Kitty. When Ally tries to quit, Val reveals that in the contract Ally signed, Val earned the right to own her for 5 years. At the end of the episode, she gets tricked into signing a contract that releases Ally from Val and the band.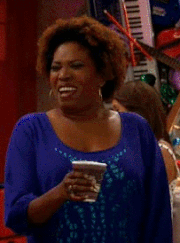 Val makes her second appearance in this episode, where she comes into Sonic Boom and asks Ally and Austin to write her a song that will give her band, The Stray Kitties, their first big hit. They decline, and she leaves, infuriated. She then comes back for revenge; she sues them and claims that Austin stole the song, Steal Your Heart, from her. They go to court, and despite the majority of the court session going her way, she ends up losing the case.
Val makes her third and final appearance in Moon Week & Mentors. She, alongside Austin and Ally and Jean Paul-Paul Jean, is a judge for America's Top Talent.
Trivia
Her last name, Crawford, is revealed in Tunes & Trials.
She is the manager of the band The Stray Kitties, as is revealed in Solos & Stray Kitties.
She tricked Ally to fill out a 5 year contract to be in The Stray Kitties.
She wanted Austin and Ally to write a hit song for her group The Stray Kitties in Tunes & Trials.

She thinks Austin Moon is a great dancer and singer, as revealed in Tunes & Trials. He has also been known to dance with her briefly during performances in both Tunes & Trials as well as Moon Week & Mentors.
She likes winning.
Her last appearance was in Moon Week & Mentors.